Love at the Center
Give in US Dollars     Give in Canadian Dollars
Give in US Dollars Give in Canadian Dollars
Many of us remember where we were when we first chose to follow Christ. For Molly, it was at a barbecue feeding 2,000 people in a neighborhood of Philadelphia, Pennsylvania, at the center of the city's drug trade. On this day, Molly, a woman who had been prostituting herself, was among 150 new believers. Her opportunity for new life in Jesus became possible because Mike and CeCe Burwell trusted that God would change the hearts and lives of the people in their community who are in need.
After CeCe hugged her, Molly expressed gratitude that church people would be out there among people like her, touching them and loving them. Their lives surrendered to the work of the Gospel are bearing fruit, and the seeds have been planted through your partnership in this missional/formational journey. Your generous gift today to the Ministry Resource Fund continues training and supporting those like the Burwells around the NAB. Every dollar of support is ultimately an investment in the lives of people through leaders like Mike and CeCe.
For Mike, interactions like these only feed his desire to establish a church that is focused on Gospel training, community service, and business partnerships, all in service to spreading the Gospel and providing for the tangible needs of the neighborhood. Even now, this church is in the works; it will be called the Koinos Center.
The Koinos Center began as a rundown property that separately caught the eyes and imaginations of two men—Mike Burwell and Joe Thomas—both of whom believe God can manifest His Kingdom through a neglected building in northwest Philadelphia.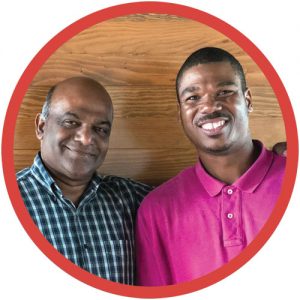 A little more than two years ago, a rundown property that no one seemed interested in buying or improving caught Joe's eye. This NAB pastor of Neshaminy Valley Baptist Church in Bensalem, Pennsylvania, visited the building and saw that some homeless people were using it as a temporary residence. After hearing the concerns of a few of the people there—poverty, violence, and drugs in the community—God quickly sparked a dream in Joe's heart. Soon, Joe's desire for how this property could be used transformed into a vision of a community center as a gateway for a church plant. He said, "The focus is the community and 'church' is not a building." Joe saw the potential for the Kingdom to break into the lives of the people in this neighborhood through this dilapidated property.
Meanwhile, Mike Burwell's passion for God and for people drew him to this same property with a desire to create a safe zone for the people in his neighborhood to gather without fear of violence breaking out. Mike had a vision for a place of refuge and art and community. When Mike first met Joe in May 2017 at the property, they soon began to see that God had brought them together so that the Koinos Center could truly become a reality.
As the dream for this project has moved forward, Mike is stepping into the role of leading the Koinos Center. To help him prepare for this, he recently completed NAB's church planter assessment. He also took part in the most recent cohort of Blue Ocean and the yearly Bonfire gathering, both of which provided training, networking, and support around NAB's missional focus and formational practices, which are a key to a healthy church and healthy leaders.
This service-driven church, the Koinos Center, is still in the process of being established, but Joe, Mike, and everyone else involved are more focused on the people than the property. The Ministry Resource Fund provides crucial resources, training, and support to efforts like these. Not only does it fund missional training like Blue Ocean, it also provides for the staffing and office support of all NAB church planting efforts. Your gift today of $50, $100, $500, or more to the Ministry Resource Fund makes a significant difference in expanding the reach of the Gospel.
Give in US Dollars     Give in Canadian Dollars
Give in US Dollars Give in Canadian Dollars