The Gathering 2020

The Gathering began with a dream from NAB youth workers to gather students and leaders together for a variety of experiences to dive deeper in faith, community, and service. It comes but once every three years and is the only venue that gathers all students from the North American Baptist Conference in one place for a time of worship, service, transformation, and fun.
Our dream for The Gathering 2020, is that God would make Himself known to each of us! We can't wait for you to join us July 12-17, 2020 at Hope International University in Southern California!
If you have further questions, please email youth@nabconf.org. Help us share about The Gathering 2020 with your church leader and encourage your youth to participate!
Click below for more information!
The Gathering Details and Registration
Conversations on Missional Initiatives
When we talk about spiritual formation or being missional, we often refer to them collectively as the missional/formational movement because they are two sides to the same coin. In this video, Jen Cole, Women's Ministry director at Sunrise Community Church, shares how Blue Ocean helped shape her focus on the community around her church, and Sean St. Clair, executive pastor at Disciples Church, tells how his participation in Blue Ocean helped him dig deeper into the necessary formational work that comes with being a follower of Christ.
Church Planter of the Week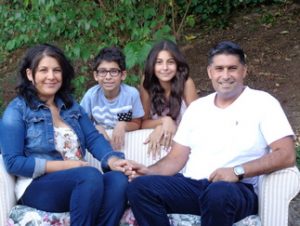 Sorin Crivceag, Iglesia Communidad West Hills, Salem, Oregon. Pastor Sorin grew up outside of Bucharest, Romania, and his wife, Laura, grew up in Argentina. They met while they were both attending the Bible institute at Word of Life Argentina. After nearly twenty years of ministry in South America, Romania, and Florida, they moved to Salem, Oregon, in 2015 to work with Hispanics for Christ to plant Iglesia Communidad West Hills. Pray the church would be an effective and vibrant witness of Christ's love in their community. You can visit their website atiglesiacomunidadwh.weebly.com, and check out their Facebook page at www.facebook.com/IglesiaComunidadWestHills to keep abreast of what's happening.
Missionary/Church Planter of the Week