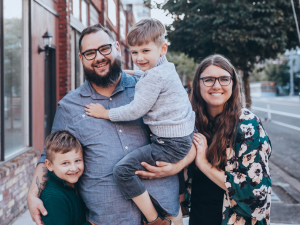 At the beginning of 2023, Pastor Ryan Sidhom of River City Church in Vancouver, Washington, attended a plea hearing of a young man who had broken into River City, destroyed church property, and trashed the entire building. Ryan was there to make a request: that the church be one of the avenues through which this young man would fulfill his inevitable community service hours. This was likely to be denied by either the court or the young man and so would not be granted.
Regardless, Ryan was praying this unusual request would at the very least stir up something in the people who were at court that day, even if it was denied. This young man was in need of help, a community that could circle around him and lovingly support him. River City was willing to be that community, but only because they were part of the larger NAB community that cared for and supported them.
"Before I was connected to the NAB, I was feeling hopeless and depressed," Sidhom shared. He said the previous ministry network the church was connected with "didn't think our ministry was worth investing in, so the NAB brought me the hope needed to pass on grace!"
One of the ways we strive to make the NAB different from the prevailing culture we find ourselves in is through fostering a sense of community among our churches and missionaries. But not just any community; as Wayne Stapleton writes, we want to be a Christian community formed by God "as his loving alternative to the ways of the world." When you give to the NAB's Ministry Resource Fund, you are helping support ongoing efforts to foster, encourage, and grow this community across North America and around the world. Ultimately, your generosity gives hope to leaders like Pastor Ryan and others who are seeking to be focal points of grace and compassion in their communities.
Give in Canadian Dollars     Give in US Dollars
Give in Canadian Dollars     Give in US Dollars
That day in Clark County Juvenile Court, the victim impact statement Ryan wrote was read to all present. In the statement, Ryan shared that the day of the vandalism, volunteers had been working non-stop passing out produce to more than 450 under-served families and helping immigrant families sign up for state healthcare coverage. Some of those same volunteers who locked up on Saturday arrived on Sunday morning to find multiple doors broken down, the building ransacked, food and trash strewn everywhere, the toys from the nursery smashed, and the soundboard and computers in the sanctuary desecrated.
This building that had served as a safe space and a wellspring of resources for so many in the community – including many who otherwise would never set foot on church property – had been trashed. Those Sunday volunteers quickly got to work getting as much as they could
back in order.
After recounting the events of that day from their perspective, including the financial and mental impact on the people involved, the statement read in court included that unusual request: that River City be part of the process of restoring the relationships between this young man and his city, his community, and his God, if he was willing. They wanted to be part of the process of getting him the "help that he needs. The support that he needs. Access to a loving community, which he may also be in need of."
In other words, as Ryan told the young man through the statement, "We forgive you. We are in your corner. We are rooting for you. And we hope that we have the opportunity to help you through this in a tangible way."
After the statement was finished being read aloud in court, Ryan said there as a long silence where several people attempted to regain control of their emotions.
After a bit, the judge continued the normal legal proceedings, reading through the details of the young man's sentence. When she got to a section that stated he was to have no contact with River City or any members of the church, Ryan requested that be stricken from the record, reminding the judge River City wanted to allow him the ability to perform his community service hours through the church. The judge said she was okay with it, but it was up to the young man. After conferring with his attorney, he surprisingly also agreed.
Unfortunately, despite his agreement that day in court, the young man has since chosen not to accept the invitation into a new community. In fact, not only did he reject River City's offer, he also ran from the court and has a new warrant out for his arrest.
But God is still at work in this process.
Shortly after the trial ended, Ryan was contacted by the director of the Restorative Community Service Program within the Clark County Juvenile Court, the same court Ryan had just visited. She wanted to know if River City would be interested in assisting other youth in need of fulfilling community service hours, not just the young man from court that day. Ryan enthusiastically agreed.
Since then, the court has sent employees to volunteer at one of River City's service projects; they have also started using the church building for a new restorative art initiative, bringing youth offenders and their families into the building to create art used to repay the places they've vandalized. "In fact," said Ryan, "the artist they bring in to teach these classes is the same artist hired to paint the mural on the side of our building, thus giving River City more influence with her and her family, who are all unbelievers!"
Though the young vandal committed an act that was meant to harm River City, "God intended it all for good" (Genesis 50:20 NLT). Those of us who have experienced the redemption found in Christian community know the truest and most heartfelt reaction to it is to extend this same community to others in need, those who have not yet known the love, grace, and encouragement of God's family. This is why gathering together at Bonfire, Blue Ocean, Multipliers Summit, and even Triennial are so crucial to our identity, not just as the NAB but as followers of Jesus. They help shape us and form us ever more into the image of Christ in our local communities.
Would you give $50, $100, $500, or more to the Ministry Resource Fund to help support these efforts? Every gift, in part, provides some tangible support to building up the NAB as a community that reflects God in our world.
Give in Canadian Dollars     Give in US Dollars
Give in Canadian Dollars     Give in US Dollars
You can also text to give. Just text any amount followed by "FALL" to:
204.400.2238 (Canada)
916.249.0534 (US)
Consider asking your church to partner with us in these ministry efforts. Here are some ideas for getting involved:
Give a personal gift today and encourage your family and friends to do the same.
Distribute materials at Sunday service or weekly Bible studies, classes, or groups.