Church Planter Summit
September 26, 2022

-

September 28, 2022

$699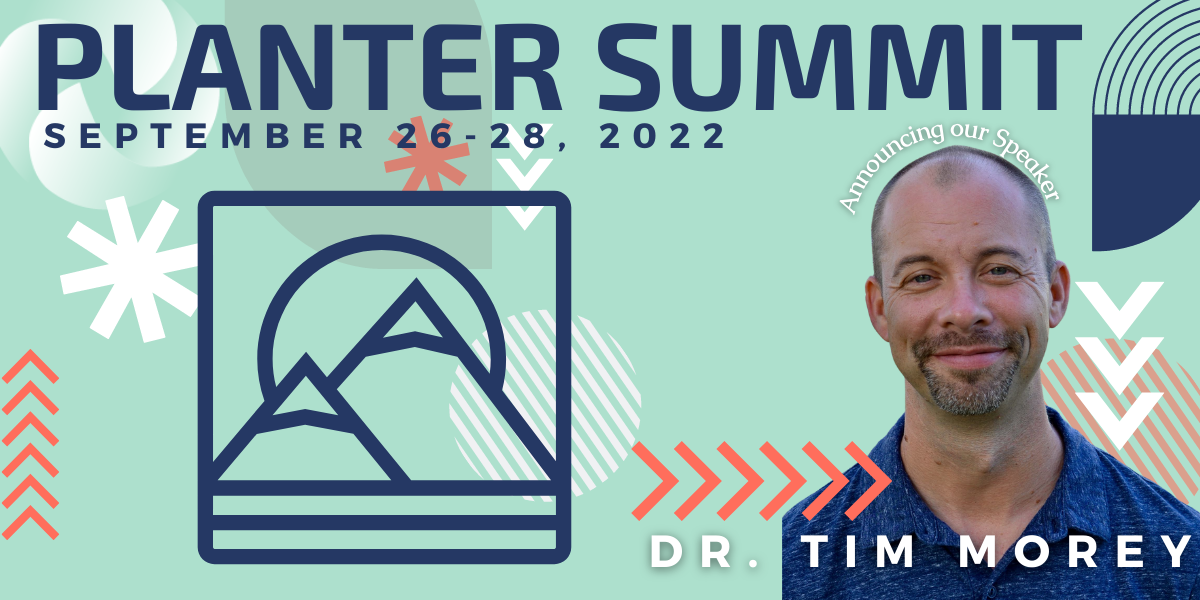 We are pleased to announce Dr. Tim Morey will be this year's speaker. Morey is the founding and lead pastor of Life Covenant Church in Torrance, California, and he serves as an adjunct professor teaching church planting at Fuller Theological Seminary, where he earned his DMin. He is also a church planting assessor, trainer, coach, and author. His latest book is Planting a Church Without Losing Your Soul, which, in part, explores how church planters can become people who invest in their own physical, emotional, relational, and spiritual health. We are absolutely thrilled he will be joining us.
WHY ATTEND PLANTER SUMMIT?
The challenges associated with the kingdom call of church multiplication are often a heavy burden for a lead couple to carry. Whether you're planting a brand new church from scratch, getting a micro-church off the ground, or leading a movement of missional communities, you know this is unique work. The sting of rejection, the weariness of long ministry weeks, and the joy of spiritual breakthroughs all weigh heavy on the souls of church multiplication leaders. As NAB leaders, we are convinced the trajectory of any church multiplication effort begins with who we are becoming as leaders.
If you're a seasoned veteran in church planting with the NAB or just kicking tires on church multiplication, this is a great few days of inspiration, rest, and renewal.
WHERE?
For a second year, we will be back at the stunning Hyatt Lodge in Oak Brook, Illinois. The grounds are very large and covered with serene walking paths and beautiful ponds. For those wanting to explore downtown Chicago on a free afternoon, it's just a 30-minute drive away.
2815 Jorie Boulevard,
Oak Brook, Illinois, United States,
60523
WHAT?
It's not your average conference featuring a parade of speakers and highly programmed gatherings. For this experience, we seek to gather about 50 people in a beautiful setting to hear from a seasoned church planting leader on the topic of soul care for the lead couple. We hope couples will attend together, though there is no problem attending solo. Our times will be highly conversational and you will have several hours of non-programmed time to explore Chicago or just walk the beautiful grounds of the Hyatt Lodge.
WHEN?
September 26–28, 2022
SCHEDULE
Monday, 9/26
3:30 p.m.  – Welcome Reception outside the Q Room
4:00 p.m.  – Session 1 – Tim Morey on Five Crucial Spiritual Disciplines, Q Room
6:30 p.m.  – Dinner, Piazza Room downstairs
Late Night – Casual reception in hotel lounge
Tuesday, 9/27
8:30 a.m.  – Coffee outside Q Room
9:00 a.m.  – Session 2 – Planter Stories, Q Room
10:30 a.m. – Coffee Break
11:00 a.m. – Session 3 – Tim Morey on Ministry Wounds
12:00 p.m. – Lunch on your own
AFTERNOON FREE
2:00 p.m.  – Bonfire Community begins checking in
6:00 p.m.  – Summit & Bonfire Dinner Banquet, Grand Oaks Room
7:00 p.m.  – Tim Morey on Present God's People Mature
Wednesday, 9/28
8:30 a.m.  – Coffee outside Grand Oaks Room
9:00 a.m.  – Combined Session Summit & Bonfire – Scot McKnight on The Jesus Creed, Grand Oaks Room
10:30 a.m. – Planter Summit concludes – Planter send off
Of course, all planters are encouraged to stay through Thursday morning for the rest of Bonfire, you can register for Bonfire separately on the Bonfire Events page.
Final Note
All planters with a current signed Planter Agreement and up-to-date associational & MRF giving can use the discount code emailed to you from sstreeter@nabconf.org on May 12th. Additionally, the NAB covers flight costs for all planters and spouses with a Planter Agreement in place. If you're not sure about your status, contact Amber (apedroni@nabconf.org).
Also consider staying for the Bonfire – which gathers on the same grounds as the Summit, September 27–29 – joining many other men and women as we seek to create a movement within the NAB. This year's speaker for Bonfire is Scot McKnight.
Registration includes accommodations (hotel) for September 26–27 (and 28 if you are staying for Bonfire), meals, and all programming costs.
Register for Event (CA)
Register for Event (US)