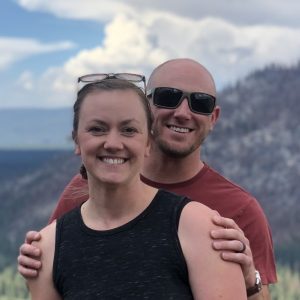 Vince and Jessie Rediger are getting ready to plant a new church. But they aren't looking to sow the seeds of a new congregation on the other side of town or even a few cities away: they are moving nearly 1,000 miles away to a place that in many ways might as well be a different country all together.
"We just have a heart for Utah County," said Vince. After hearing about the lack of churches in the second most populous county in Utah – less than 1 percent of residents can be considered Gospel-believing followers of Jesus – Vince and Jessie felt burdened for this place that was not their home and for a people who were not their immediate neighbors. Simultaneous to this God-given burden, a number of other people in their lives asked them if they had ever considered planting a church. Sensing God's leading, they began digging into what God was doing.
Vince said, "I couldn't shelve what God was laying on my heart for Utah County."
Church planting is at the heart of who we are as the North American Baptist Conference, and has been from the start. When you give to the Ministry Resource Fund, you are supporting this kind of Kingdom work. Your generosity allows church planters like Vince and Jessie Rediger to receive the training, resources, support, and care that are crucial to reach places like Utah County with the Gospel of Jesus.
Give in US Dollars     Give in Canadian Dollars
Give in US Dollars Give in Canadian Dollars
For the Redigers, the first step of the journey was going through the NAB planter assessment process. According to Vince, this process "was incredibly intense. They really got a grip on who I was and were able to speak into my giftings, my passions, my growth areas." This meant Vince and Jessie were able to better understand their strengths and weaknesses. It ultimately gave them direction, a path forward.
Their next step was talking with David Curtis, the pastor of Salt Creek Baptist Church where Vince was the youth pastor. From the very start, David had been part of their journey, encouraging the Redigers and helping them wrestle with what it meant for them and their family to plant a church. In fact, after Vince stepped down as youth pastor in July 2022, he took on a new role at Salt Creek: missionary church planter in residence. This has allowed the Redigers the necessary space to continue to grow as church planters even before they move to Utah.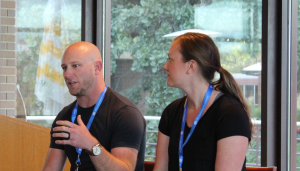 One of the key steps in this growth was the chance for Vince and Jessie to spend two weeks in a residency program at Disciples Church in Folsom, California, learning all the different pieces that go into not only starting a church but also the day-to-day aspects of running one. Additionally, they were able to connect with a number of other church planters in the NorCal Association to see a variety of kinds of church and ministry philosophies. From there, they were able to distill what they wanted their church plant – Mercy Church – to look like.
The first church service, Bible study, or neighborhood outreach is still a long way away. In fact, Vince and Jessie – and their four children: Cora, Thea, Willa, and Theo – move to Utah County at the beginning of November, and then they'll spend the next year in a residency at a local church to get better integrated into the local culture. Even so, they are excited for the future, knowing that the harvest is plentiful.
This entire journey – from assessment to being sent by an NAB church to the residency process – was specifically designed in such a way to ensure the Redigers, and other church planters like them, are able to build and deepen connections within the NAB so they know they are not alone. Would you give $50, $100, $500, or more to the Ministry Resource Fund to help support these efforts? Every gift, in part, provides some tangible support to church planters across the NAB.
You can find out more about the Redigers and Mercy Church by visiting www.saltcreekchurch.org/ministries/mercy-church-planting, where you can also sign up for their newsletter.
Give in US Dollars     Give in Canadian Dollars
Give in US Dollars Give in Canadian Dollars
You can also text to give. Just text any amount followed by "FALL" to:
204.400.2238 (Canada)
916.249.0534 (US)
Consider asking your church to partner with us in these ministry efforts. Here are some ideas for getting involved:
Give a personal gift today and encourage your family and friends to do the same.
Distribute the materials below at Sunday service or weekly Bible studies, classes, or groups.