It can be difficult to step out of our places of comfort to enter into the corners of our world where we are most needed to be the hands and feet of Jesus. But this is so often exactly how Jesus invites us to act as he calls us to follow after him. After all, "he gave up his divine privileges; he took the humble position of a slave and was born as a human being" (Philippians 2:7 NLT). If we as a people are seeking to be like Jesus, then we often must also choose to embrace the difficulty of the manger like he did; we must be willing to put aside our own comfort to enter the difficult and challenging situations where we can best manifest God's incarnational love in our world.
For the past eight months, Pastor Dan Schroth and the Refugee Assistance Team at McKernan Baptist Church in Edmonton, Alberta, have been experiencing this truth firsthand. This past April, they began the process of resettling a group of nine Ukrainians seeking a place of refuge in the midst of the turmoil of war in their home country. It has not always been easy, but they wouldn't want to be anywhere else.
Over the years, leaders at McKernan have participated in many of the discussions hosted by the NAB International Office on cross-cultural engagement. They have even hosted some of their own for the members of their congregation. These kinds of conversations are not always easy, but the fruits that grow out of them are so often manifestations of the Gospel at work. When you give to the NAB's Ministry Resource Fund, you are helping to support the training and Gospel work that encourages and provides resources for this kind of cross-cultural ministry.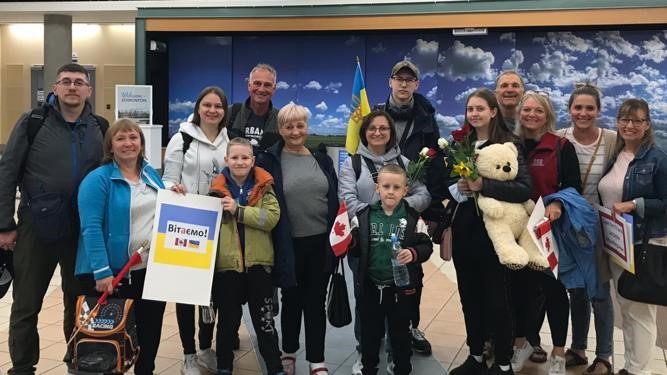 Since the war in Ukraine began in February with the invasion of Russian troops, roughly 14 million people have been displaced from their homes, many of them seeking refuge in neighboring countries, or even beyond. Nine of these individuals found their way to Edmonton, Alberta, in September through the help of the Refugee Assistance Team at McKernan. The team connected with the family of six, plus their grandma and two friends, through a local refugee support organization and began building relationships through Facebook and Google Translate.
Meanwhile, while waiting on visas for all nine, the team began raising funds, securing rental housing and furniture, and gathering information on the various processes for setting up healthcare, education, and benefits, among other items. This was a learning experience for all of them, and it required a lot of work from everyone on the team – as well as no shortage of patience. Ultimately, their hard work paid off. But McKernan isn't done yet.
The Refugee Assistance Team is committed to walking alongside their new Ukrainian friends for six months as they establish themselves, and the entire McKernan family has stepped up by accompanying them to numerous appointments; providing rides, clothing, and other necessities; and even assisting with medical needs.
Like most types of Gospel ministry, cross-cultural engagement is often difficult, but the NAB is committed to encouraging, training, resourcing, and supporting churches and leaders as they engage in cross-cultural ministry. Whether it's through ongoing support or a one-time gift of $50, $100, or more, would you consider donating to the Ministry Resource Fund? Your gift will help churches and leaders across the NAB as they choose to follow the path of Jesus, embracing difficult manger in their own cities and communities.
If you are interested in learning more about cross-cultural ministry and what it can look like in your context, contact Wayne Stapleton, VP of Cross-Cultural Engagement.
Give in Canadian Dollars     Give in US Dollars
Give in Canadian Dollars Give in US Dollars
Text your gift amount followed by "Christmas" to:
For Canadian donations, text (204) 400-2238
For US donations, text (916) 249-0534
---
Church Resources
Widescreen Christmas Offering Slide
Christmas Offering Bulletin
Christmas Offering Brochure 
Request church offering envelopes no later than December 9, 2022, by emailing communications@nabconf.org.