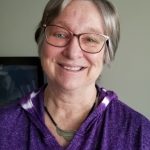 Last March, we shared that Elsie Lewandowski, an NAB missionary to Cameroon for twenty-six years, was taking on a new adventure in missions: serving in Romania, helping the Bergman children with their educational needs. Despite a few delays and setbacks in the last year, we are happy to report that Elsie has now arrived in Romania!
Chief among those setbacks was a medical diagnosis in the middle of last year. As Elsie shared in her November 2021 newsletter, "It has been an exciting journey of watching God go through his checklist and answer every one of my needs and prayer requests with a check mark. It began with the discovery of an unknown mass pushing my optic nerve, to the removal of my right eye and the mass, and continues with radiation. But the journey!!" (You can read up on this journey in her August, November, and February newsletters.) Throughout it all, Elsie has been joyfully trusting in God's providence, and he continues to provide.
Most recently, Elsie spoke of God's hand at work. Her passport arrived in a timely manner, and all of the other logistics fell in place at the proper time, orchestrated by the God who takes care of us. Even more, her eyelid is doing as well as it has since her eye was removed, though there is still some healing that needs to take place.
However, her biggest struggle has been the packing. "I've never had to pack for four seasons before and am appalled at how much space sweaters and boots take up. Even with a vacuum bag, I've used more space than I expected."
Join us in praising God for getting all the paperwork and tickets completed and arranged for this journey and for the medical staff who have helped Elsie along the way. We also invite you to pray for these next steps, specifically continued healing of Elsie's eyelid and her energy level and a good time settling into Romania.