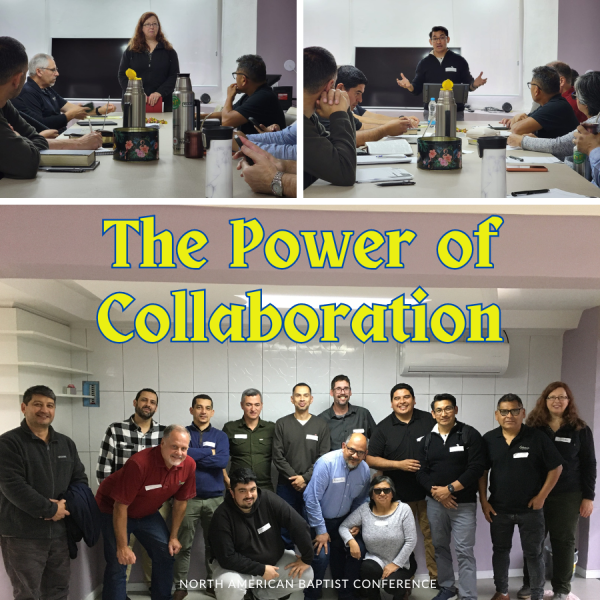 In mid-September, three of our NAB missions leaders organized a summit of sorts in Porto Alegre, Brazil. Lyndell Campbell-Réquia (Brazil), Randy Schmor (Gateway), and Geoff Hartt (Hispanics for Christ) recruited national leaders from each of their relational circles for two days of vision casting, strategizing, and network building. The conversations and plans that resulted from this meeting far exceeded what any of them could have done through their individual ministries. Key leaders from churches in Uruguay, Argentina, and Brazil formed new networks for more effective church planting in these countries. They learned how they might be able to support each other in their calling and how they can learn from each other.
Another aspect of the summit was theological education. Kairos University is already partnering with Rio Grande do Sul Baptist Theological Seminary to supplement their program in Portuguese, but as a result of this meeting, Kairos – HFC has begun to dialogue with three Spanish-language seminaries in Argentina, Uruguay, and Brazil (supporting Venezuelan outreach). A spirit of cooperation among the schools will allow all of them to be more successful in their mission.
What follows are the observations of some of the participants at the summit and how this event encouraged them, and maybe even gave them motivation for greater Kingdom work in the future.
---
There is a lot of great stuff on the horizon! There are a number of webinars and online workshops over the next few weeks that we invite you to take part in.
Understanding Indigenous People Workshops – October 24 | The second of four workshops that will be a safe place to discuss issues tied to understanding Indigenous peoples more.
When Church Stops Working – October 26 | A chance to hear from Andrew Root, author of When Church Stops Working, as he speaks with us around how we may have leaned our ladder against the wrong wall.
Neighbourhood Life Workshop – November 2 | Come and see for yourself what missional initiatives is all about.

Whether you choose to take part in one or all of these events, we trust they will encourage you, challenge you, and help you connect more fully with other churches and leaders from across the NAB.
---
For this year's Fall Offering, we are sharing a story of Christlike community found at one of our newest NAB churches. After River City Church in Vancouver, Washington, was brutally vandalized, Pastor Ryan Sidhom made an unusual request of the court: he asked that the church be one of the avenues through which the young vandal would fulfill his inevitable community service hours.
Ryan recognized that this young man was in need of a community that could circle around him and lovingly support him. River City was willing to be that community, but only because they were part of the larger NAB community that cared for and supported them.
One of the ways we strive to make the NAB different from the prevailing culture we find ourselves in is through fostering a sense of community among our churches and missionaries. But not just any community; we want to be a Christian community formed by God as his loving alternative to the ways of the world. When you give to the NAB's Ministry Resource Fund, you are helping support ongoing efforts to foster, encourage, and grow this community across North America and around the world. Ultimately, your generosity gives hope to leaders like Pastor Ryan and others who are seeking to be focal points of grace and compassion in their communities.