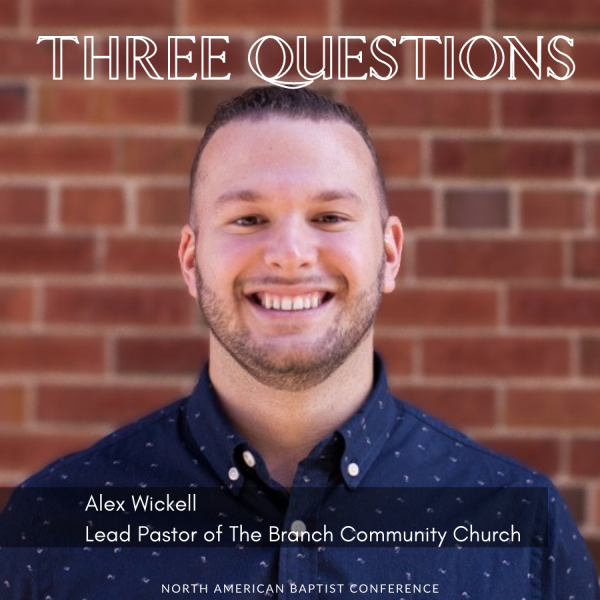 Three Questions is a semi-regular series where we introduce individuals across the NAB with the same questions: What's your story? What's ministry like for you? What are you learning? This week, we hear from Alex Wickell, lead pastor of The Branch Community Church in Chicago, Illinois.
What's your story?
I was born and raised in Chicagoland. I've been married for twelve years to my wife, Erin; we have a six-year-old (Addison) and four-year-old twins (Elijah and Sienna). I grew up in a denominational church, but I didn't begin following Jesus until I was in high school. It was later that I felt the call to spend my life helping others find Jesus. I did my undergraduate work at North Park University and my graduate work at Northern Seminary. I have been in full-time ministry for fourteen years and have served in youth ministry and worship ministry in small churches and large churches. I now have served at my current church (Branch Community Church) for eight years, the last two of those as the lead pastor. . . .
---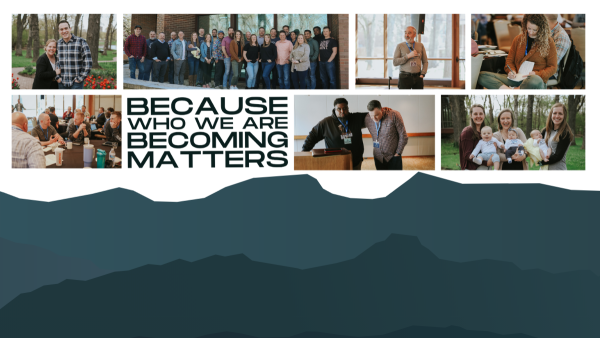 For David Curtis, pastor of Salt Creek Baptist Church in Dallas, Oregon, going through Blue Ocean changed his life for the better. "God did some real significant work for me in that, and that spurred me to start working with a Christian counselor," David said. "It's added a lot of depth and been a real life-giving process, to me personally and for my family, just because of the way I've grown out of that." David understands God still has some work to do in him, which is why he looks forward to the annual Bonfire gathering, what he describes as "an opportunity to get around the table with other people that are on the journey of leading and understanding how to lead from a place of health and how to navigate the challenges that we face in ministry."
Bonfire and Planter Summit – the gathering of those planting or revitalizing church communities – are quickly becoming key components in the spiritual lives of leaders across the NAB. These annual reunions are designed to help shape us, communally and individually, into people who look more and more like Christ, because who we are becoming matters.
In the new few weeks, you will likely receive a brochure in the mail sharing David's story, and the story of other pastors and church multipliers, and the impact Bonfire, Planter Summit, and other NAB gatherings have had on their lives and minstries. Would you consider giving to the Ministry Resource Fund to help support the formation of NAB leaders through events like Bonfire and Planter Summit? Your generosity will, in part, assist pastors, leaders, and missionaries across the NAB through training, resources, and assistance created specifically to help them become the people God made them to be so they might impact their communities for the Kingdom.
---

There is still room! The next Fit Assessment is just around the corner, July 10–12, 2023, in Medina, Ohio, and if you are interested in church multiplication or international missions, we invite you to consider checking it out!
The NAB Fit Assessment is designed to help individuals and couples discern their next best steps in ministry based on their skills and the leading of the Spirit. Key to this is the Fit Assessment staff entering into the discernment process with each candidate or couple. We use proven methods and tools to help each individual and couple, if married, accurately appraise their fit to be the lead planter in a church plant, be the lead pastor of a revitalization effort, or serve as an international missionary.
If you, or someone you know, might be interested, it is not too late to sign up for this next assessment. Send an email to Stu Streeter, VP of Ministry Advancement and Church Multiplication, to connect. You can also check out the link below to find out more about the Fit Assessment process.
---
We are so excited about next year's Triennial gathering in St. Paul, Minnesota, July 11–14, 2024, and we cannot wait to share with you the details as they are coming together. With just over a year to go, there is still a lot to do in preparation for the 2024 Triennial, but there are already a few pieces we'd like to share with you.
But not yet!
In just one week, we will be sharing a video promo from Executive Director Harry Kelm, where he talks about the purpose of Triennial and the scriptural theme that will be the focus of our time together in St. Paul.
In the meantime, you can check out www.nabtriennial.com to find videos of a few of the most recent Triennials and get a small taste of what Harry will share in the video.