International Connections through Hispanics for Christ
"To be around folks who have such a high commitment to planting new churches," said Geoff Hartt. "It's inspiring and encouraging." Geoff, the director of Hispanics for Christ, an NAB partner ministry, recently participated in a church planters' retreat for a group of pastors working mainly in Mexico. In addition to Geoff, other representatives from the NAB included Stu Streeter, the VP of Church Multiplication, Kerry Bender, the VP of International Missions, and Randy Schmor, the director of Gateway, among others.
The church planters' retreat, which took place April 21–23, was attended by approximately fifty church planters and their families, who took time away from their ministries to gather in Huimilpan, Mexico, thirty minutes outside Querétaro. The last time this group was able to gather was in 2017, so after five years of not seeing each other, it was a blessing to be able to share updates on what they were doing and what God was doing through their ministries.
"To be in the presence of people who are all in and reoriented their life to doing this, I came away renewed," said Geoff. As for the planters who attended, he said, "They are definitely recharged and refocused on church planting."
"I was amazed to see the deep sense of community Tony Campos and Geoff Hartt have helped foster among the planter community in Mexico," said Stu Streeter, "and it further inspires me to continue the same north of the border with our US and Canadian planters."
This retreat was also an opportunity to deepen existing connections and build new ones. Randy Schmor and a few leaders from Hollyview Church in Damascus, Oregon, were on site to explore a sister-church partnership with a church in Mexico. If any churches are considering a similar partnership or are simply looking for contacts with churches in Mexico or Latin America, Hispanics for Christ would be happy to help make those connections.
---
Triennial 2024
We are excited to announce than the next Triennial will be taking place – in person – July 11–14, 2024, at the RiverCentre in St. Paul, Minnesota.
While last year's Triennial was marked by powerful speakers and challenging breakout sessions, the virtual format made the cherished times of connecting with others more difficult than in years past. This is why we are thrilled to once more gather together in the same space to worship together as we sing praises to our God, learn together, pray for each other, and show love to one another.
Mark your calendar for July 11–14, 2024. You won't want to miss this Triennial.
---
Church Planter Assessment: June 6–8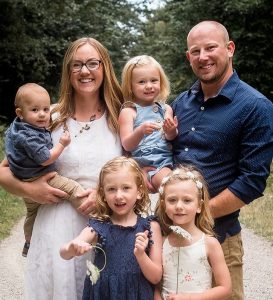 By Vince Rediger
NAB Church Planter
My wife and I entered into the assessment without any church planting plans in motion, but rather a desire to explore and learn if church planting was something God had for us. I really appreciated how comprehensive it was. The assessment provided a thorough and helpful process of examining our strengths, giftings, personalities, and spiritual and emotional well-being, as well as reviewing our philosophy of church planting. It significantly helped us discern our next steps in pursuing church planting.
It was also incredibly encouraging getting to go through the assessment with other couples and individuals who were pursuing church planting. The friendships and interactions we had with the other potential planters as well as the assessment staff was a blessing in so many ways.
We walked away from the assessment being able to see how God was leading us into church planting. We also walked away with some good feedback that challenged us to really be intentional about how we were preparing for God's leading. The recommendations and insights helped us see areas where we needed to grow, be further equipped, and continue to wrestle with our church planting philosophy.
The assessment was a foundational experience for us to really clarify God's call to church planting and to give us direction. We are grateful for the feedback that helped us move forward with God's call so we can be most faithful and fully equipped for the church planting work God is calling us into in Utah. I would highly recommend this process to anyone considering church planting, especially if your desire is to be the most effective and faithful church planter possible, taking the hope of the Gospel to new neighborhoods, cities, and nations so the name of Jesus would be made known.
Interested in going through assessment?