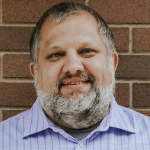 As some of you are aware, Calvin Hohn, our field director in Cameroon, returned to Canada several months ago due to some health concerns. He has since returned to Cameroon, but he, Susanne, his health care providers, and the NAB International Office have been in conversation about his ongoing health. Calvin and Susanne have decided that after their home assignment, which will end in June/July of 2023, they will not return to Cameroon. Below is a brief letter from the two of them, and they will be sharing more in their next quarterly newsletter, which will be in February.
We are thankful for the health care and sage wisdom they were provided that led to this decision, but it is certainly with mixed emotions that we received and now share this news. Their ministry extended beyond two decades and was filled with the inbreaking of the Kingdom again and again.
Within the next month, we will announce the plans for the field director in Cameroon. We look forward with joy and confidence to all God has in store for this important partnership between the NAB and the Cameroon Baptist Convention, but for now, let's take a moment to pray with and for the Hohns as they enter a new chapter in their lives and ministry. Thank you, Calvin, Susanne, Ysabelle, and Elianna!
Kerry Bender
VP of International Missions
---

Twenty-three years ago, our journey together in Cameroon began. The first nine years, we lived and worked at the grassroots level, engaged in discipleship and community development amongst a least-reached people group. The past fourteen years we've been serving the larger missionary body connected to the Cameroon Baptist Convention (CBC) and leading the solid and integrated partnership between the CBC and the NAB. We've built countless mutually encouraging relationships and invested in what we pray will be lasting fruit for God's Kingdom. For our daughters, Ysabelle and Elianna, Cameroon is their primary home. They both embraced the many opportunities that have led them to be the beautiful third-culture adults they are today.
So it is with a full spectrum of mixed emotions that we realize our journey in Cameroon is coming to an end. Primarily for medical and well-being reasons, it is not wise for us to continue here. This decision has been made after counsel, advice, and, of course, prayer. After Elianna graduates from Rainforest International School in June 2022, we will return to Canada to begin our final one-year home assignment. This will provide us the opportunity to visit and thank many of you, our faithful supporters, before fully resigning as NAB missionaries in June 2023.
We value your thoughts and prayers during these next six months as we wind down our Cameroon journey. Pray especially for the CBC leadership as they seek God for a new Director of Cooperating Missions. We will still be sending our quarterly newsletters over the next eighteen months and will keep you updated through them.
"We can make our plans, but the LORD determines our steps." Proverbs 16:9 (NLT)
Calvin & Susanne Hohn
January 2022