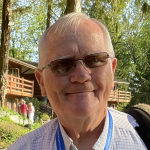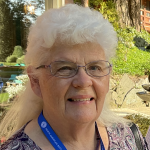 By Ron and Joan Stoller
It was another great reunion at Cedar Springs Christian Retreat Center in Sumas, Washington, May 15–17, 2023, with retirees coming from eight states and two provinces. Three years had passed since we gathered together, and for some reason, some people seemed to have gotten older! Yet, as we gathered around the tables for the great family-style meals, we picked up the conversations as if we had seen each other just yesterday.
Caryn Young from the NAB International Office helped direct our time, and we started out with a great session from Harry Kelm, the director of our conference. He shared the four end goals of the NAB, which are the same as what Frank Woyke wrote many years ago in his book, Heritage and Ministry of the North American Baptist Conference. We were reminded that our goals have not changed but we have more diversity with the changing cultures we are involved with these days.

Rev. Randy Tschetter from the NAB Heritage Commission – based out of the Archives located in Sioux Falls, South Dakota – opened the book of history to us and shared from the past of some churches in the Dakotas, which involved a few of the families sitting in the audience. Amber Pedroni, who had been the coordinator from the NAB office for this retreat over the years, was now a guest, leading us in a session to recall the past. She led us through an illustration that involved releasing our concerns by writing them Jenga blocks and inscribing our blessings on paper flower petals, which made a nice flower representing the many blessings God has given us.
In the last session, Rev. Kerry Bender, the VP of International Missions, shared the joy we have in working together as a mission and joining as a family to serve our Lord and Savior. He also led us into a meaningful communion service at the end of our time together. There were five soon-to-retire missionaries who mingled with the group. Music was a time of joy with Joy Beless from Texas. One night, we pulled out the old hymn books made years ago for the retreat, and we sang around the piano for an hour. What a joy that was to sing those old familiar songs again. Walking around the beautiful campus is always a joy as we look up at the giant rhododendron bushes, enjoy a walk around the lake and waterwheel, see the crosses on the grounds, and watch the geese family.
Between sessions, we had great treats for our taste buds and also enjoyed interacting with many friends. There were two games to work on as we looked for "men in black" (more than 120 black-and-white photos of our conference leaders, whose photos were hidden in various rooms) and mind-blogging questions on large posters on walls, where we could write our thoughts on various topics as we strolled through the meeting rooms. Many greeting cards were available for writing personal notes to those who were unable to attend the retreat. For some retired people of our conference who would like to attend, the distance was an issue, being away from home is hard, and the expense of travel is difficult; for those who did attend, we were overjoyed with the family reunion atmosphere of singing, praying, eating, and studying with those we have worked with in various parts of the world. This year, there were reunions with missionaries who have not seen each other for forty years! It was hard to recognize each other with all that gray hair or no hair!
As one chapter of this NAB Retired Workers' Retreat comes to a close, we look forward to the next chapter of gatherings with the retired workers of our conference. Whether it is a meal or coffee reunion in your local area, or even a multi-day retreat at one of our camp locations or back at Sumas, there are many options we are looking into for our next gatherings. The next retired workers' retreat just might coincide with the Triennial conference in St. Paul, Minnesota, in July of 2024, or we may wait until 2025 for our next retreat.