Ministering to Ukraine Refugees
We have been excited to hear the many stories of local NAB churches throughout Canada and the US engaging with Ukrainian refugee care. We have also been overwhelmed by the response from the conference as a whole to our own Ukraine Crisis Relief Fund.
The following story comes from one of our NAB churches in the Northwest Association. A few months back, Pastor Pavel Sandu of Golgotha Romanian Baptist Church in Tacoma, Washington, invited Marcus Elmer, interim regional minister for the NAB Northwest Association, and Pastor Nick Jackson of Timberline Baptist Church in Lacey, Washington, to accompany him on a 10-day encouragement trip to Moldova. Golgotha's engagement with Ukrainian refugee care aligns well with the vision and mission of the NAB. While it is not the practice of the NAB to promote funding individual ministries of our NAB churches, we are sharing this story as it was presented to us from the Northwest Association leadership, and it includes an opportunity to support the ministry presented in this story.
One day we visited the border crossing at Palanca, Moldova. We witnessed refugees crossing the border by foot and in cars. We went there also to encourage the Christian volunteers that were working on both sides of the border. The volunteers are from Christian churches in Moldova, staffing the border crossing 24/7, offering snacks, water, information and help. Their yellow vests read "Praying for Ukraine." We delivered some hot food to the volunteers and thanked them for their dedication.

[…]

Singerei Bible Camp is a ministry of the Baptist Union denomination of churches in Moldova. . . . By God's sovereign hand, the camp had recently completed the construction of two brand new group homes that were planned to serve as orphanages staffed by live-in parents. These two new homes on the camp grounds had just been completed before the refugee crisis in February. Therefore, the homes were immediately re-purposed for the refugees. Each home can house up to 8 families. The camp currently hosts over 100 refugees.
Click on the link below to read the full recap of their trip, including more about their visit to Singerei Bible Camp and visits to a host of churches. You can also support Ukrainian refugees and internally displaced persons by giving to the Ukraine Crisis Relief Fund.
---
Less Than a Month to Go!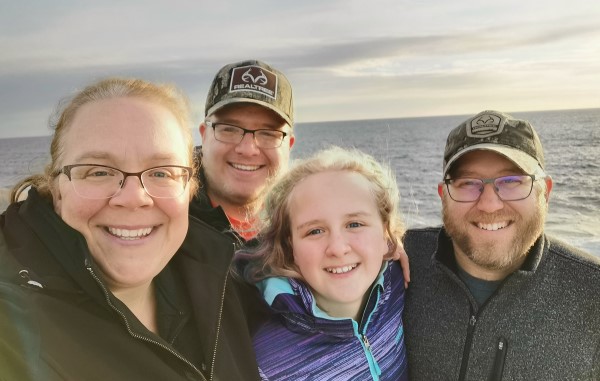 Hopefully by now you've already become acquainted with the Smiths. They are getting ready to leave at the end of this month to join the team in Romania working with Camp Falcon Rock. They will be taking on the role of interim field directors to allow Paul and Tanya Gericke to return to North America on a much-needed home assignment. You can find more about the Smiths by visiting their missionary page or by reading their profile.
While they are getting more and more excited about their year serving in Romania, and they praise God for his kindness and giving them direction, they have a few items they are asking for prayer for:
Winding down pastoral ministry at Mayerthorpe Baptist Church. Their last Sunday will be August 21. Before that, they are taking seventeen teens to Northwest Territories August 5–13 to serve among indigenous people, sharing the Gospel in a day camp program.
Their house to sell.
Stamina and health through very busy days.
God to enliven the hearts of his people to pray for and support the Romania mission field and Camp Falcon Rock.

In addition to partners in prayer, the Smiths are also in need of financial partners. They are currently sitting at 34% of their needed support. Would you consider giving to contribute to this urgent need?
---
The newest edition of TouchPoint is out now! This newsletter from the Women's Connection Leadership Team is a great resource and full of many helpful articles and ideas, including:
An interview with a member of Komyo Christian Church in Japan by NAB missionary Shan Reed.
A profile of NAB missionary Yuri Nakano and her work in Japan.
Suggestions for book studies for women.
And much more!

Check out the Spring 2022 TouchPoint newsletter at the link below. You can also sign up to receive the newsletters in your inbox, as well as check out the previous editions on the NAB website.