Seeking Abundant Life for Indigenous People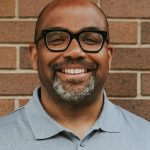 by Wayne Stapleton
VP of Cross-Cultural Engagement and Emerging Leader Engagement
Jesus told his followers he came to bring an abundant life, a life that could be described by the fruit of the Spirit. This type of life is sorely needed for all of us, and yet historical circumstances make it challenging even today for Indigenous people.
With this past Tuesday, June 21, marking National Indigenous People's Day in Canada, I wanted to share the story of how God is using one member of the Indigenous community to bring healing. Parry Stelter recently spoke with me about his ministry and his passion to reach Indigenous people in Canada with the Gospel, to make attainable the abundant life in Christ.
But, he noted, it is a challenge. The Indigenous community has the highest rates of incarceration, child welfare, diabetes, suicide, addiction, and high school dropouts, among other statistics. Many Indigenous people have an identity crisis due to the past 500 years of systemic racism and abuse. Parry wants to highlight why the highest social ills across the board are associated with Indigenous peoples as a result of the wounding and intergenerational trauma inflicted on them by colonialism, but he doesn't want to stop at highlight the why; he wants to administer healing. . . .
The header image is adapted from Last Supper by Dorothy Tchumut, an Australian indigenous artist.
---
Bonfire Only Three Months Away!
We are about three months away from our Bonfire gathering. We hope you are planning to join us, September 27–29, when we meet in Chicago.
To see the schedule for our time together, as well as additional info regarding registration, visit the event page.
Bonfire will be a great opportunity to connect with others who are on mission together throughout the NAB, as well as a time to meet the expanding Missional Initiatives team.
There are some scholarships available to help cover the costs. If that interests you, please contact Sara-May Cardy.