"We felt called to step out in faith to be a part of the vision of more intentionally bringing Jesus to South Bismarck." Andy and Kara Speidel live in Bismarck, North Dakota, with their two kids, Jack and Charlie.
They attend Missio Church, one of two church plants to come out of Century Baptist in the last five years. "Missio's slogan is 'Love Jesus. Live sent.' This requires relationships with people," said Andy.
They knew they wanted to be intentional in their relationships, especially in their neighborhood, so they started something new.
"In the summer and fall, we've started hosting outdoor movie nights in our backyard," he said. "We borrow an inflatable screen, a projector, and speakers from Missio and have a party. It's made it easy for us to connect with our neighbors and build relationships with other families whose paths cross ours routinely, and it also gives us an opportunity to show hospitality."
One of the byproducts of these movie nights is that Andy and Kara's house has become a kind of safe place within the neighborhood.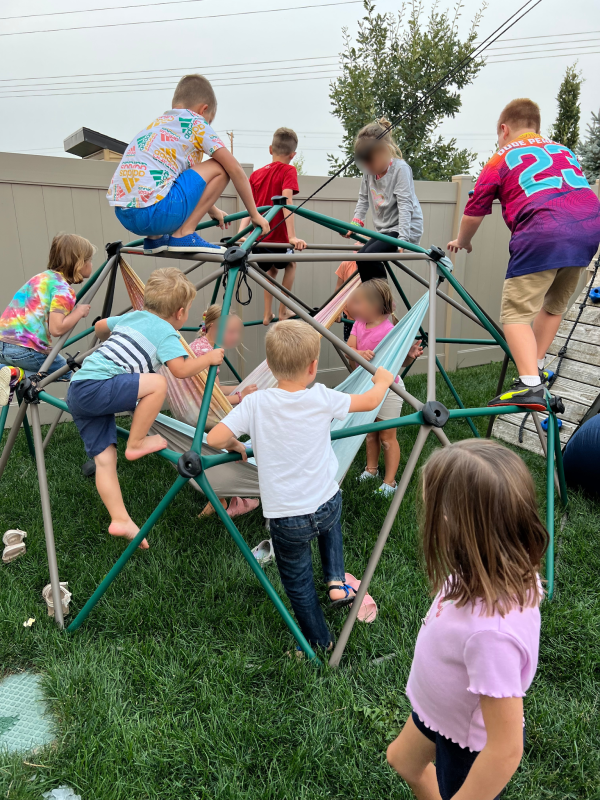 "We believe God has used these movie nights to help build trust with people he's put in our path," they said. "We now have a consistent stream of neighbor kids in our yard on nice days, where they know they are welcome and parents know they are safe. Deeper conversations have come up more and more, and we know God is stirring their hearts."
Through these movie nights, God is using Andy and Kara and their two kids to make his Kingdom known through relationships.
"Movie night has been a great way to draw people together to build that relationship, which can turn into friendships, which hopefully leads to Spirit-led conversations about the Gospel."
While starting up something new – like movie nights in the backyard – can seem daunting, the Speidels have words to share with anyone looking to do something similar. "Don't hesitate."
"It can be anything . . . make it a rhythm, something consistent. There is no measurement for success, or pressure of any sort; just be open for God to use your hearts and efforts to glorify him."