Click here to view this newsletter as a PDF.
Prayer
Upcoming ministry travel. Thanks for your prayers! –

Oak Brook, Illinois – NAB Mission Advisory Team (MAT) meetings – I'm really looking forward to these important IN-PERSON meetings; as we've not been able to meet outside of Zoom since November 2019! The seven of us on the MAT discuss and advise as to a broad range of topics/issues for NAB International Missions around the world, and we also really enjoy being with each other! Thanks for praying for this important time.
Lake Balaton, Hungary – CHE Euronet Conference – This annual conference brings together Community Health Evangelism (CHE) workers from around Central Europe and the Balkans. Gateway has had and hopes to have more shared ministry among these CHE workers, which includes our own colleagues in Hungary (MEK) and Serbia (ZZ) as well.
Hatvan, Hungary – MEK Annual Board Meeting – Another great opportunity to have this meeting in-person, as well as help advise the MEK Hungary staff in their ministry.
Oakdale, Minnesota – Redeemer Baptist supporting church visit – Looking forward to connecting with these friends after some delays and postponements.
Vancouver, British Columbia – Blue Ocean missional/formational cohort – Blue Ocean is also back in-person and is both personally encouraging and strategic ministry-wise, as I have the opportunity to network with NAB pastors/leaders.
Springside, Saskatchewan – Springside Baptist supporting church visit – Springside has been a faithful supporter for many years, and I look forward to being with these friends again. We're a long time overdue!

Financial and prayer support for myself and the Gateway ministry – Thanks go out to those of you who have responded to this request! If you or your church would consider raising your level of financial support for my service with Gateway, it would still be much appreciated. Thanks again for considering!
Praises
Safe travel to these great ministry opportunities over the past few months (for more details, see the article portion of this newsletter):

Rome, Italy – NAB International Missions Global Retreat (Summit)
Belgrade, Serbia – ZZ (CHE) Serbia ministry visit and conference
Bismarck, North Dakota (Missio and Disciples Churches) – sister-church partnership orientation
Emery, South Dakota (First Baptist) – church visit
Fullerton, California (The Gathering) – NAB student/leader mission/conference
Hatvan and Zsambok, Hungary – NAB national missionary connections
---
These past few months have actually felt more 'normal' in regards to my ministry life with NAB Gateway. Allow me to share a few more details as to what it's been like to 'Get Back Out There!'
Rome, Italy – NAB International Missions Global Retreat (Summit)
A Catholic retreat center in the outskirts of Rome provided the perfect setting for this contemplative retreat that was attended by many of our NAB missionaries, as well as NAB Executive Team members, the Mission Advisory Team (MAT), and spouses (Shelly was there with me as well!). It was probably the largest single gathering of NAB missionaries, definitely the largest outside of North America. And Rome was also, of course, an amazing destination for historical tours, both group and individual, organized and impromptu. We were all truly blessed to be a part of it!
Belgrade (and more), Serbia – ZZ (CHE) Serbia ministry visit and conference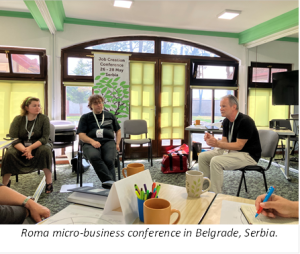 Taking advantage of the opportunity since I was already in Europe, I visited and spent time with Marijana Cizmanski (NAB national missionary) and the ZZ Serbia staff, which made for a full five days. I was able to attend, with her and others, a conference with Roma (Gypsy) workers on micro-business analysis and start-ups that provided insight into many aspects of wholistic Gospel ministry and gave me opportunity to meet workers from all over the Balkans. We also traveled to other parts of Serbia and participated in ZZ ministry opportunities that gave me much-needed insight as I help oversee NAB work in Serbia.
Bismarck, North Dakota (Missio and Disciples Churches) – sister–church partnership orientation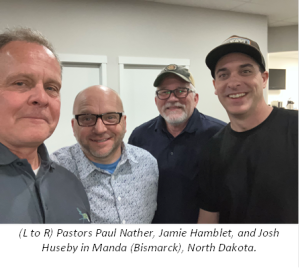 SCP orientations are the first step in answering the question, "Where do we start?" when churches are interested in entering into a global sister-church relationship, so to have the opportunity to work with two new church plants that are already interested in making global partnerships of this nature a part of their DNA is an amazing blessing. Both Missio Church and Disciples Church are in a great place as vibrant, young congregations to make global sister-church relationships a vital part of their churches' lives, and I'm really excited to help them make this vision a reality.
Emery, South Dakota (First Baptist) – church visit
As was mentioned in the May newsletter, First Baptist Emery was a church where I served as youth pastor some years ago, and they have continued to bless my family and I as they have served as a supporting church for many years. Many in the NAB know that First Baptist Emery has been an active participant, as well as active supporters, of international missions for many years. I consider it a blessing to continue to be a part of that active support.
Fullerton, California The Gathering – NAB student/leader mission/conference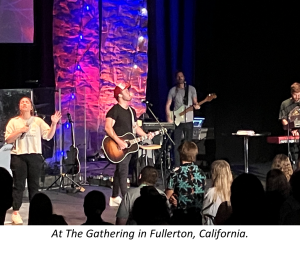 For 12 years, Shelly and I were able to be a part of the Youth Ministry Leadership Team, helping NAB student ministry on the denominational level. One of the biggest and best ways we were able to do that was to help organize and participate in leading The Gathering, a mission and conference event held every three years in Southern California. After a five-year absence due to the pandemic, The Gathering was back in July, and it was great to be invited back as a volunteer and as an exhibitor with NAB Gateway. The event itself was really great, and there are many stories to read about in other NAB communications regarding what took place.
As I represented NAB Gateway at The Gathering, I was pleased to talk with many students and their leaders and, in particular, to invite them to consider NAB Gateway in sister-church partnerships and in short-term mission trip opportunities. One of those opportunities is happening in July/August 2023 – a Hungary mission team that will be sent out from the NAB Gateway office! High school students (who have completed Grade 11 in 2023) and college/university students are invited to register and apply at nabonmission.org/get-involved/nab-gateway/ymt_hungry/. Think about it! Pass it on!
Hatvan and Zsambok, Hungary – NAB national missionary connections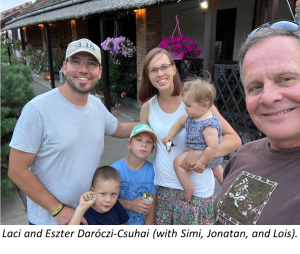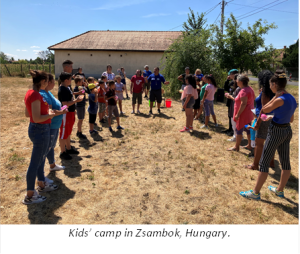 And last but not least, in literally the last days of July, I had the chance to be with Laci and Eszter Daróczi-Csuhai, NAB national missionaries in Hungary. There were many hours of conversations regarding their service with MEK (wholistic Gospel ministry) Hungary, as well as the opportunity for me to be a part of the staff/volunteer workers for a kids' camp in Zsambok (one of the very places the Hungary Team 2023 mentioned above will serve!). The time was rich, the weather hot(!), and the conversations blessed as I had opportunity to meet and share with almost all of the members of the MEK Hungary team.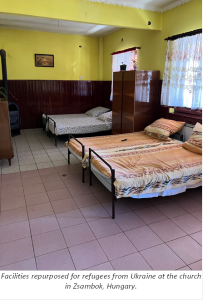 That also included two of the currently part-time members of the MEK team, Leonard and Ljuda, who have been displaced from Ukraine by the war and are currently living in Hungary and helping their fellow Ukrainians with aid and provisions. While it was such a blessing to meet them and two of their sons, it was also a privilege to hear from them about their experiences over the past six months. Much could be said from what they shared, but two main takeaways would be: 1) Though the war no longer is at the top of our Western news cycles, nothing has changed in the war's danger and savagery; and 2) Their pain is real. I was encouraged to share that we should not forget nor neglect to pray for Ukraine.
It's been a full three months. Thanks for your continued prayers and support of my service with NAB Gateway (and my service in Hungary and Serbia).
For the Kingdom,
P.S. – Students, consider coming to serve in Hungary in July 2023 (click the link above)!
Randy Schmor