Call to Day of Mourning and Prayer
Rejoice with those who rejoice;
mourn with those who mourn. (Romans 12:15 NIV)
Cameroon is the oldest mission partner of the North American Baptist Conference. Through the years, we have had opportunity to rejoice with them as churches were planted, church leaders were trained, hospitals were built, and lives were forever changed by the in-breaking of the Kingdom of Heaven on earth. Today, however, is an opportunity to mourn with those who mourn.
This past Sunday, November 28, the Executive President of the Cameroon Baptist Convention (CBC), Rev. Dr. Charlemagne Nditemeh, called for a day of mourning and prayer in response to the most recent tragedy in the civil unrest in Cameroon; you can read his letter below. As his letter attests, this is not the first act of violence, but last Wednesday's attack in Ekindo Titi, Southwest Region, hit the CBC family especially hard. A teacher and three students were killed in the attack. All three students and the teacher were members of the CBC, and one of the students was the daughter of the local CBC pastor. A brief account of the attack can be found at this link.
Because of the timing of the call to prayer, we were not able to get this out to our NAB church family in order to join the CBC in prayer last Sunday. However, we are asking that all of our churches take time this coming Sunday, December 5, to join our brothers and sisters in Cameroon in lament and pleading with God to bring peace to Cameroon.
In addition to your prayers, if you would like to contribute to the Cameroon Crisis Relief fund, you can do so by clicking the link below.
Give to the Cameroon Crisis Relief Fund
Since the painful and unfortunate outbreak of protest actions by English-speaking teachers and lawyers of Anglo-Saxon obedience which morphed into an elusive crisis enveloping the North West and the South West Regions for the past five years and counting, we have lived excruciatingly with some unimaginable, indescribable, absolutely wicked, and very inhumane scenarios which sadly testify the inhumanity of humankind to humankind: Ngarbuh (February 2020), Kumba school massacre (October 2020), PCC Ntanfoang-Bali (August 2021), poor innocent kids Caroline Ndialle (October 2021) and Tataw Brandy (November 2021), just to name these few. The recent killing of a teacher and some students in Ekondo-Titi only adds a rider to an already cancerous situation.
Continue Reading Rev. Dr. Charlemagne Nditemeh's Letter
---
David Ewing Retiring as RM

After fifteen years as the regional minister for the Eastern Association, and a lifetime of ministry at NAB churches all across the United States and Canada, David Ewing is retiring at the end of the year. Since July 2006, he has faithfully served NAB churches in Ontario, Quebec, New York, Pennsylvania, and Vermont, with the endless support of his wife of fifty-six years, Jean. Together, they say it has been an "honor and privilege of serving the Lord Jesus as the NAB Eastern Association Regional Minister." David wrote, "We thank you for the loving and prayerful support of our regional ministry during these fifteen years both in Canada and in America. We have enjoyed serving our Eastern Association churches."
Even as he retires as regional minister, David will continue to serve as an elder at their home church, theWELLbuffalo in Getzville, New York. If you wish you send David a message of thanks for his decades of ministry, particularly the last decade and a half as RM, or if you just want to wish him well in his retirement, you can send him an email at the link below.
---
The New Math of Multiplication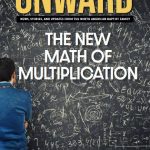 If it hasn't already, the newest edition of Onward will soon be hitting your mailbox. This issue looks at the future of ministry multiplication and how it differs from church planting efforts from decades past. You'll find articles and updates from EYELET, Kairos University, and other NAB ministries and partners, as well as photos from Triennial Watch Parties and the 2021 Church Planter Summit.
If you don't already receive your free copy of Onward in the mail and would like to stay abreast of the news, stories, and updates from the NAB family, you can sign up for our mailing list.
---
End-of-Year Giving Info
As you consider donating to the NAB in tax year 2021, here are a few factors to keep in mind to make sure that we are able to give you a tax receipt for calendar year 2021:
If you are sending a check, please make sure it is dated no later than December 31, 2021, and the envelope is postmarked no later than December 31, 2021.
Online credit card transactions must be charged no later than December 31, 2021.
Electronic Fund Transfer (EFT) forms must be received at NAB's Roseville, California, office no later than December 16, 2021.
In order to donate stock prior to the end of the year, notification must be received at NAB's Roseville, California, office no later than December 9, 2021.
Please note that the NAB International Office is closed beginning at 4:00 p.m. (PST) on Wednesday, December 22, 2021, and reopens at 7:00 a.m. (PST) on Tuesday, January 4, 2022.