Meet Some of the EYELET Members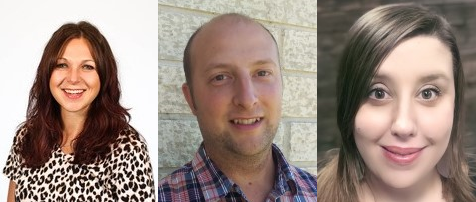 Because The Gathering, the NAB youth conference / mission trip, is happening right now in Orange, California, we wanted to introduce you to some of the members of EYELET, the team tasked with engaging, equipping, and elevating young leaders to lead the NAB into the future. (Be sure to check out Kent Carlson's article about EYELET from last week if you missed it.)
April Wahl is the middle school director at Century Baptist Church in Bismarck, North Dakota. April has a master's degree in Bible and Theology and has served in youth ministry for nearly fifteen years. She is passionate about helping teenagers understand they are loved, they matter, and they belong because of Jesus. Along with leading in the local church, April writes for youth ministry organizations, as well as creates content for youth ministry curriculum companies. She and her husband, Jordan, have two boys, Archer and Aksel.
Mike Anderson grew up in Saskatchewan cheering for the Roughriders (Canadian football)! He aspired to become an architect, but after going to the youth Triennial Conference in 2000, he answered God's call to ministry. He attended Canadian Bible College and graduated in 2005. He and Marcie were married in June 2005 and moved to Springside that August to serve as associate pastor, where he still serves today! They have three children: Carys, Leah, and Owen. Mike is currently working on his master's in theological studies and enjoys riding horses, playing sports, reading a good theology book, and going camping.
Sarah Sciarini is the director of communications at First Baptist Lodi and on staff with NorCal NAB, working with Kent Carlson and Lisa Schmidt. Sarah has a passion to create safe places for younger church leaders to connect, share, process, and be encouraged that through all things God is up to something as they walk through the trenches of ministry in a particularly onerous cultural moment. In her free time, Sarah enjoys road trips, books, and writing. She's excited to see all that EYELET will do to grow and care for upcoming leaders.
Would you commit to praying for these leaders and the rest of EYELET as the team continues to grow and evolve?
---
Jump into Blue Ocean
If you haven't yet taken the plunge into Blue Ocean, we invite you to join us for three gatherings in three cities across the US and Canada. Each of these gatherings has a distinct focus:
Vancouver, British Columbia – Theology (October 16–19, 2022): Not only does this first set of meetings help foster a sense of community, it also entails an exploration of the missio Dei and uses topics such as reading Scripture, the Gospel, and the Trinity to get at the missional nature of our God.
Sacramento, California – Formation (February 5–8, 2023): These few days focus on being formed into the image of Christ, especially as leaders, and how the dark side of leadership can impact our ministries and even our very souls.
Chicago, Illinois – Ecclesiology (April 24–26, 2023): The final gathering is a movement toward missional ecclesiology: what it looks like for us to be a people creating space and bearing witness to what God is doing in the place he has established us.

Over the last number of years, scores of NAB leaders have undertaken this journey together and by doing so have captured a vision for their church, ministry, and personal lives about what it means to be on mission with God in their communities. Consider jumping into this next Blue Ocean cohort beginning October 16–19, 2022. Reach out to Sara-May Cardy to find out more.