For so many reasons, summer is a season of transitions. In addition to the usual changes, this June contains a few additional transitions within the NAB. Dennis and Nancy Palmer, Calvin and Susanne Hohn, and Elsie Lewandowski are all retiring as long-time missionaries with the NAB. We thank them for their service over the decades as they complete their terms at the end of June, and we want to take this opportunity to share our appreciation of them and all they have accomplished for the Kingdom.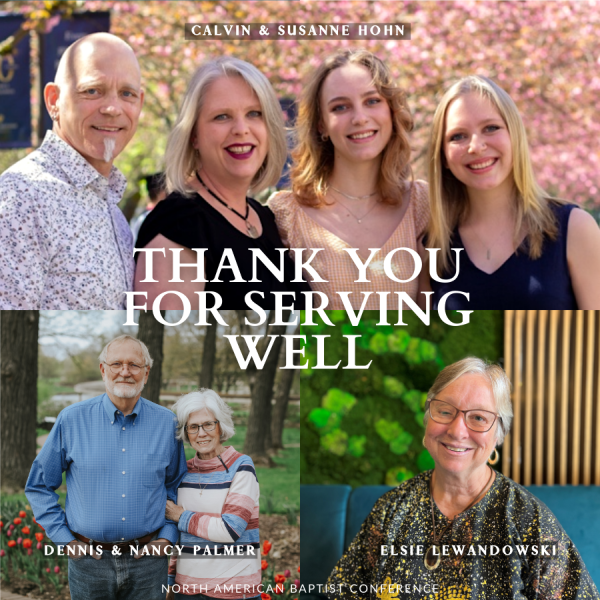 The missionary ministry of the Palmers in Cameroon spans six decades. In just the last few years at Mbingo Baptist Hospital, they have been instrumental in completing the hydroelectric dam, the installation of a central oxygen system, and the groundbreaking for the first Cancer Research Center in Western Africa.
For much of the Hohns's five decades in Cameroon, they served directly with and for our brothers and sisters in the Cameroon Baptist Convention. Calvin and Susanne were an important part of the ongoing relationship between the NAB and our oldest ongoing global ministry partner.
Elsie has served in four countries on three continents over a span of five decades. Her service as a teacher helped shaped generations of youth, intellectually as well as spiritually. Regardless of the setting, her ministry has been impactful, and her smile is always infectious.
The presence of all five of them as NAB missionaries will be greatly missed. We hope to be able to take a moment to recognize the service of all our retiring missionaries at the 2024 Triennial Conference in St. Paul, Minnesota, July 11–14, 2024. We hope to see you there!
In the meantime, with Dennis and Nancy, Calvin and Susanne, and Elsie completing their tenure with the NAB at the end of this month, we invite those who currently give toward their missionary endeavors to transfer support to one of these other pressing needs; if you don't currently support them, we still invite you to support these areas of need:
Maureen and Craig Moody – With the departure of Calvin and Susie Hohn from Cameroon, we desperately needed to find an acting Field Director for the NAB. Maureen rose to this challenge and is doing an excellent job, but because of the urgent need, we placed Maureen and Craig on the field significantly underfunded.
Another important ministry that is currently in urgent need of funding is the Bicol Center for Christian Leadership in the Philippines and the ministry of Claire Marker, our global missionary partner in the Philippines.

Please reach out to Nina Roibu in the International Office to make any changes to your financial support. If you have any questions, please do not hesitate to reach out to Caryn Young or to Kerry Bender. Thank you for your consideration and your support of NAB missions and the breaking in of the Kingdom of God around the world!