In mid-September, three of our NAB missions leaders organized a summit of sorts in Porto Alegre, Brazil. Lyndell Campbell-Réquia (Brazil), Randy Schmor (Gateway), and Geoff Hartt (Hispanics for Christ) recruited national leaders from each of their relational circles for two days of vision casting, strategizing, and network building. The conversations and plans that resulted from this meeting far exceeded what any of them could have done through their individual ministries. Key leaders from churches in Uruguay, Argentina, and Brazil formed new networks for more effective church planting in these countries. They learned how they might be able to support each other in their calling and how they can learn from each other.
Another aspect of the summit was theological education. Kairos University is already partnering with Rio Grande do Sul Baptist Theological Seminary to supplement their program in Portuguese, but as a result of this meeting, Kairos – HFC has begun to dialogue with three Spanish-language seminaries in Argentina, Uruguay, and Brazil (supporting Venezuelan outreach). A spirit of cooperation among the schools will allow all of them to be more successful in their mission.
What follows are the observations of some of the participants at the summit and how this event encouraged them, and maybe even gave them motivation for greater Kingdom work in the future.
Lyndell Campbell-Réquia (NAB Brazil Field Director)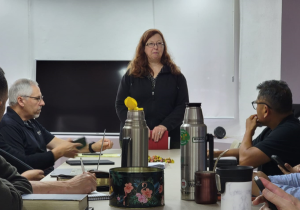 One of the unreached people groups in southern Brazil are Venezuelan immigrants. And one of my seminary students, Flávio, has a passion to reach these people for Christ. This was the catalyst for my husband and I to reach out to my colleague Geoff Hartt about connecting Flávio with Hispanics for Christ. As we began to pray and dream about what the Lord might do, we started thinking of others in our area who might be interested in meeting the team from Hispanics for Christ. As we reached out to these pastors, they told us about some pastors, who are also professors and leaders in Uruguay, who have been searching for partners and opportunities for theological training. Soon the dates and agenda were set, and I was making all the logistical arrangements in English, Portuguese, and even Spanish (through Google Translate, of course)! We intentionally planned not only to have time for training, but specific time set aside to explore how the various groups – Hispanics for Christ, Kairos University, Rio Grande do Sul Baptist Convention, NAB Gateway, IMB Missionaries, TeachBeyond Uruguay, the Uruguay Baptist Convention, and our Brazil mission field – could work together for theological education and to plant more churches among Spanish speakers. Our Brazil team prayed and asked the Lord to use this moment to prepare for significant partnerships that will have lasting consequences for his Kingdom, and we believe that he has faithfully answered those prayers.
Geoff Hartt (Executive Director, Hispanics for Christ)
The energy in the room was exciting! All these ministries came together to think about how they might unite to have a big impact. We crossed a number of borders (literally and figuratively) to bring this group together, but it felt like we were all interested in building the same Kingdom.
There was a spirit of cooperation and mutual respect among all the participants as we discussed the theology of church planting, looked at practical models, and considered the resources each of us could contribute to this project. The best part of this meeting was the private conversations over coffee and homemade donuts provided by our host, Lyndell and the Brazilian mission field. New alliances and friendships were started during this visit.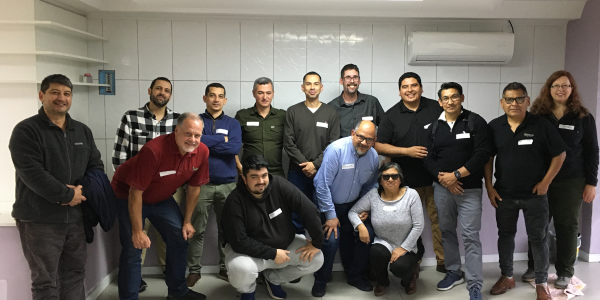 The next steps will be challenging as we move from vision to actually developing plans created in mutuality between all the participants (something Gateway has promoted for many years). The commitment of time and resources to this will be worth it, as God will be glorified in new churches, baptisms, and leaders prepared to serve the churches that can result from this effort.
Facundo Luzardo (Pastor)
My name is Facundo Luzardo, pastor of Adullam Baptist Church in the city of Las Piedras, Uruguay. When I received the invitation to be part of Hispanics for Christ's meeting in Porto Alegre, I was honored to be invited, but I was not sure if taking half of the week off and the 12-hour bus ride one way was going to be worth it. I decided to jump into this opportunity because I love anything church-planting related and I'm always eager to learn and meet other brothers who are theologically clear and missionally focused.
I was so surprised to meet such a diverse group of people from Brazil, Argentina, the USA, Canada, and Uruguay who are trying to expand God's Kingdom in their local churches while also coming alongside other workers from different backgrounds to invest, encourage, and give very practical advice for each ministry to flourish.
I learned a lot from our Argentinian brothers' experiences in church planting and was blessed by the opportunities to study in the future at Kairos University, as well as helping make real connections with our local Baptist seminary. I was challenged by the model of sister-church partnership showcased by Hispanics for Christ and Gateway and did some planning for future visits from our Brazilian brothers to our church in Uruguay. This is what church planting networking should be all about.
I am very thankful for this event and the vision behind it.