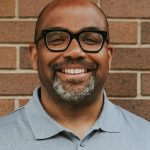 by Wayne Stapleton
VP of Cross-Cultural Engagement and Emerging Leader Engagement
God made the world very good and set mankind into the Garden of Eden to be a vice-regent representing him and caring for his creation. Man and woman were made in his image, but sin came in and broke the relationship between God and man, man and himself, man and others, and man and nature. There was disunity and dissension. God knew this would happen and went about the process of redemption, ultimately bringing his Son into the world, imaging his Father perfectly, and sacrificing himself on a cross so once more mankind can image God in God's creation, this time by the power of God's Spirit.
This imaging includes inviting others into a deepening relationship with God. Jesus gave the command to his church to make disciples of all nations or ethnicities, to share the good news of reconciliation and restoration. God sent his Son, and his Son sends his church into the world to join God's Spirit drawing unto himself disciples made up of all people groups in the world, disciples who will image his love and grace and mercy amidst the disunity and dissension of fallen mankind.
When the Spirit came, this command began to be a reality. Sixteen ethnicities were described in Acts 2 as having been present when the Spirit was released into the church. That day, 3,000 people received this work of redemption.
In Acts 10:34–35, Peter acknowledges that God's Spirit can reside in non-Jewish people, as the early church wrestled with what the relationship would be like between the Jewish and Gentile believers.
In Galatians 2, tension arises when Peter is not living this new unity out. He was drawing back from the Gentile believers out of fear of the Judaizers. To Paul, this is an affront to the Gospel that makes people new.
Today, we come into contact with people of all types: different cultures, generations, backgrounds, and perspectives – each made in God's image, though broken, and each in need of his redemption, his Gospel.
Because the Gospel involves both vertical reconciliation between man and God and horizontal reconciliation between peoples, God's church – people who are new creations in him – are to embody this reconciliation. And yet like sanctification itself, in which we are justified and still growing into our ability to live it faithfully, our unity in Christ is real in heaven and a work in progress on earth.
Cross-cultural engagement is about upholding the dignity of each person made in God's image, as well as God's desire that disciples be made of all ethnicities and that, in Christ, we are treated as one, reconciled to one another. Cross-cultural engagement is about valuing the oneness of the church while valuing the uniqueness of the cultures that make up God's one church.
We want to communicate the value of cross-cultural engagement, equip the conference, and elevate and connect multi-cultural ministry leaders so we might bear God's image ever more faithfully and we might be better able to discern the movement of his Spirit as he draws all people unto himself.
We are led by the desire of Jesus as he prayed in John 17:20–23: "I am not asking on behalf of these alone, but also for those who believe in Me through their word, that they may all be one; just as You, Father, are in Me and I in You, that they also may be in Us, so that the world may believe that You sent Me. The glory which You have given Me I also have given to them, so that they may be one, just as We are one; I in them and You in Me, that they may be perfected in unity, so that the world may know that You sent Me, and You loved them, just as You loved Me."