Three Questions is a semi-regular series introducing individuals across the NAB by asking them about their story, their ministry, and what they are learning. This week, we hear from Tilly Wademan, a member of Central Baptist Church in Edmonton, Alberta.
What's your story?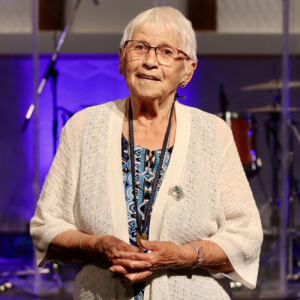 Tilly migrated with her family to Canada from Poland in August of 1928. In a family of nine children, she was number seven, as she was told, "A perfect number. I've always stood by that."
There were four different languages spoken in her school, a one-room schoolhouse, including three new ones spoken by recent immigrants to that area. Hers was a farming family that had friendships with about five couples from the same area in Poland her family came from. When they got together once a week for Bible study, she went along with her dad and faithfully sat on the floor, just listening. One evening, someone's relative was visiting and was allowed to teach the lesson.
This visiting teacher spoke on the book of Daniel. He talked about how Daniel loved the Lord, and Tilly was all ears. He mentioned the time when someone in the book of Daniel was weighed in the balance and found wanting. Tilly recalls, "I remembered somebody in school with a scale and saw how they weighed the balances. All of a sudden, he was talking about writing on the wall. And he talked about Hell, and he made Hell real. He made it so real, that I was not going to go to Hell, I'll tell you that! Of course, I still don't want to go there. But I was a kid, so I started to cry, and I was asked, 'What's going on?' I said, 'Oh, I don't want to go to Hell.' I made a big fuss about it."
After she went home and went to bed, she said, "I didn't go to bed. I got into bed, and I got out of bed. I knelt beside the bed, and I told the Lord that night that if I lived to be a hundred – which actually has happened! – I was not going to do anything else but what he wanted me to do." So began Tilly's walk with God and her opportunity to let him lead her.
A big part of Tilly's church experience has been the importance of hospitality in the church. At one point, Tilly moved to Edmonton, where she visited Central Baptist Church for the first time. She said, "And I came to Bible study at Central one night. I like saying, 'Be friendly to people when they come and speak to people when they come.' I have learned that by experience. I went to Bible study one night and left the family [at] home. And one of the ladies of the church said to me, 'How are you coming to Bible study? Don't you have a family?' And I said, 'Yes, I have children.' 'What are you doing here? And you left your children at home?' I said I left their dad with them. And I didn't feel that welcome. I never came back to Central."
At least until later.
After Edmonton, Tilly lived in LeDuc, then Fort McMurray, then Beaverdale. She says of Beaverdale, "It was the best experience that I had in my life. I met two ladies, still friends with them, and we started to meet to encourage one another. Then pretty soon we had somebody else and somebody else. Pretty soon there, we had children's work. We were out there five years before we came back to Alberta."
Tilly says, "That was a [time when] your Christianity was a reality to be lived. I learned to say, 'Don't tell me that you are a Christian, let me see your walk.' That was the best time, an experience that God is real. It's easy to say God is real and God is good when you are surrounded with Christian people and everybody encourages everybody else. But if there is nobody to encourage you and actually gives you a hard time, it means a whole lot."
After moving back to Edmonton, Tilly and her husband decided to come back to Central, and it has been her church home ever since.
About hospitality, Tilly notes, "The Lord wants us to speak to everybody that comes. My good friend Erica said, 'You know, you talk to everybody.' I said, 'Erica, nobody has ever bit me!' People are so friendly if you're friendly to them. [When] people come to the church, they must be coming for some reason. They're looking for something. If nothing else, they're looking for friendship." Tilly has extended herself to people who visit church, to be that friend.
How have you served in the church?
Because of Tilly's experience as a six-year-old girl, greatly impacted by the teaching of the Word, she has had a heart for children's work. She has made a point of working with children in every church she has attended.
As she said, in light of the time she gave her life to Christ after hearing the teaching about Daniel, "When I think back now all these little kids [might] make that decision and nobody else sees anything different. But because we were reading the Word at home, the Word became real to me. And still is."
She continued, "And now after being a grownup, I still say I like children's work. Wherever we have gone to church, wherever we have been, I have been involved with the Sunday school because we don't give our little ones enough credit for understanding when the Lord opens up their mind. That was real, and here I am now, 100 [years old], and it still is real as can be."
When she came to Central, Tilly was involved in AWANA club. She said that every Sunday after church the pastor would ask for volunteers to help with AWANA. One Sunday, she asked him, "What are you looking for, what type of person?" He said that all he was looking for was for somebody to come listen to the kids say their memory verse. She was glad to do that, and after three weeks, she was teaching the class.
Tilly said the comprehension of young people is greater than we give them credit for. "Don't think they have to wait 'til they're 10 or 11 [years old]. By that time, they've already been going to school and they've learned about a lot of other things. Teach them while you have them." Today, Tilly's mission field is the manor where she has been living for seventeen years. It is a place she enjoys, where she is making connections with friends and representing Jesus.
What have you learned about God over the years?
Tilly said, "He's faithful and he doesn't change. God has been so, so good to us."