Why Youth Ministry Matters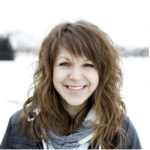 April Wahl
Middle School Director
Century Baptist Church, Bismarck, ND
Understanding the developmental and spiritual needs of teenagers is not just reserved for those called to full-time youth ministry or who volunteer in a youth ministry. This is for everyone. For every human being who calls themselves a child of God, our role is to speak into the next generation of disciples of Jesus, to walk alongside them, to equip them, to encourage them, and to empower them. Whether we are in a parenting role or a discipling role to a teenager, we have an important and crucial task ahead of us: "we will tell the next generation the praiseworthy deeds of the LORD, his power, and the wonders he has done" (Psalm 78:4 NIV).
Click below to read the rest of April's article.
Update on Ministry in Japan
During a recent visit to the NAB International Office while on home assignment, Yuri Nakano, missionary in Japan, updated us on how God has answered prayers and shared additional ways to pray for her ministry and the Japanese church. Watch the video to hear her tell the story of God answering the prayers of Heijo Christian Church in Nara. Thank you for your continued partnership with the NAB in what God is doing around the world!
Missionary of the Week
Antonio Lopez, Field Coordinator, Hispanics for Christ, Calgary, Alberta. Antonio has worked for more than ten years planting churches in the United States and Canada. He currently leads a Hispanic congregation at South Calgary Community Church, reaching the burgeoning Hispanic community in Calgary. The mission of the church is to make disciples for Jesus Christ, extend the Kingdom of God through evangelism, and plant Spanish-speaking churches, training leaders and pastors for those churches. Pray for Antonio and his wife, Yanet, and their ministry in Calgary through Hispanics for Christ. For more information, visit hispanicsforchrist.org or www.southcalgary2.org.