VantagePoint3 to Resource You
VantagePoint3 is a ministry that helps adults discover more deeply who God is, who they are, and what God wants to do through them. VP3 partners with church leaders – as well as men and women in the marketplace, seminaries, and home – who are looking for a proven, integrated process to help them deepen and develop adults in Jesus's name. In addition to their group guides, they regularly host meetings and post articles, like the one below, all centered around providing resources to help people develop in maturity.
There is no such thing as a solitary Christian
by Rob Loane
President, VantagePoint3
Throughout the essay Dillard draws a comparison between the polar explorers and the local congregation with whom she worships. Like the 19th century explorers, our congregations are often ill adapted to the severe conditions they face. For example, the intensity of our busy and hectic lives, our inner realities of loneliness and anxiety, most often knock the feet out from under our ideals of a victorious and peaceful Christian journey. In the midst of such conditions we must honestly face our limitations. Dillard writes, "Wherever we go, there seems to be only one business at hand—that of finding workable compromises between the sublimity of our ideas and the absurdity of the fact of us."
Click below to read the full article from Rob.
Read More from Rob Loane
New Servant Link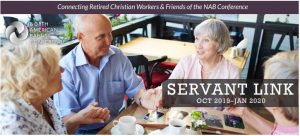 The latest Servant Link, NAB's publication that connects retired NAB workers with one another, with the NAB, and with God, is now available online! Check it out below.
Church Planter of the Week
Eduardo Buldain; Field Coordinator, Hispanics for Christ; Buenos Aires, Argentina. It was at a Bible Institute when he was eighteen that Eduardo heard God's call for his life, to serve Him by planting churches. For more than thirty years, Eduardo has been doing this all across Argentina. He has taught church planting at Word of Life Bible Institute in Buenos Aires, Argentina, and mentored many young pastors. In Buenos Aires, pastors are being prepared at the Pastor Training Center, which Eduardo founded. They have been training pastors since 2010, equipping them for ministry and sending them out to serve in churches across Latin America. Pray for Eduardo and his ministry through Hispanics for Christ. To learn more about Eduardo and his work with HFC, visit www.hispanicsforchrist.org.