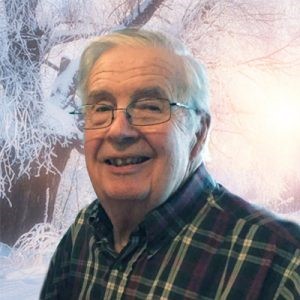 It is with heavy hearts that we share of the news of Ron Mayforth's passing on December 28, 2019. Ron was a committed servant of the Lord and true friend to those who knew him. We mourn with Sharon, his wife of sixty years, as well as the rest of his family. Ron's love for God, His church, and His Word informed much of his life's work.

Ron and Sharon met at Fort Wayne Bible College and were married in 1959, shortly before they began their final year of college. In 1963, Ron graduated the top of his class at Sioux Falls Seminary with a master of divinity degree. He earned his doctor of ministry degree twenty years later, also from Sioux Falls. Together with Sharon, he pastored churches in Indiana, South Dakota, Michigan, Alberta, and British Columbia, faithfully caring for and leading each congregation. Among his many years of ministry, Ron served as regional minister to the Dakotas, Minnesota, and Montana. He also served on the staff of the North American Baptist Conference International Office in two different roles during his lifetime, as the director of Area Ministers and, most recently, as the liaison for retired servants, where he connected with former pastors, missionaries, and those who held other ministry vocations. Additionally, he was a Professor Emeritus at Taylor Seminary.

Ron lived a life of faithful service to Jesus, loving dedication to his family, compassionate care for the members of the church, and devoted scholarship of the Bible, all of which was enhanced by his sense of humor, generosity, and love for God and His Kingdom. Though we grieve our loss of Ron's companionship, we celebrate his life and ministry and rejoice that he now stands in the presence of our Father in heaven. Our prayers are with Sharon and the rest of the Mayforth family during this time.

A memorial service will be held in Kelowna, British Columbia, on January 18, with plans to livestream it for those out of town.
---
Join our faithful prayer warriors in praying for the NAB family with the most recent January/February edition of the Intercessor. To view or download, click the link below. If we can be praying for you or your church, or you would like to receive future Intercessor prayer calendars, please let us know at communications@nabconf.org.
Click below to read the full article from Rob.
January/February Intercessor
---

Yuri Nakano, NAB Missionary in Japan. As a Japanese-Canadian, Yuri has a unique, God-given background to reach the people of Japan as a missionary sent from North America. God has placed a burden on her heart to bring the hope of the Gospel to Japan and has called and equipped Yuri to serve in evangelism, discipleship, and church planting alongside a faithful team of missionaries. Currently, Yuri is finishing up the last few months of her year-long home assignment. Pray for her travels as she visits churches and supporters. Pray as well for the ongoing ministries she is involved with back in Japan. For more information, visit nabonmission.org/missionaries/yuri-nakano.