How History Can Help Us Examine Ourselves
by Wayne Stapleton
NAB VP of Cross-Cultural Engagement
When I was on staff at Grace Community Church in Detroit, Michigan, I loved how the church leadership pursued having a worship stage that reflected the diversity of church attendees. There was a significant African American population at the predominantly White church. I was the only African American pastor on a staff with four other pastors and other shepherding leaders. But on any given Sunday, you could tell during the time of singing praises that this was a community that embraced not being mono-cultural. While many churches have varying degrees of racial and cultural diversity, it is not always clear how much this diversity is embraced, especially at the front of the worship center.
It isn't and has not always been this way. American church history reveals cases in which segregation in worship was enforced, even inside the sanctuary while worshiping Jesus. And thus, in many cases separate church denominations were birthed to serve those treated as second class citizens.
Click below to continue reading.
---


Catch up on the latest happening within the NAB around the globe! Click below to read updates from our NAB missionaries. Find out how you can pray for and support them as they join God in what He's doing!
---
Changes to the International Office Team

In addition to last week's news of Dr. Dan Hamil's resignation as our executive director we are also preparing for the departure of our communications director, Joanna Clark, who resigned some weeks back. Joanna has been doing an expectedly wonderful job transitioning her job duties as she prepares for what God has for her next. We are working hard to ensure you experience the same wonderful level of care and communication from our International Office team moving forward. Joanna's last day in the office will be March 2. The whole of the International Office team will miss her dearly, but we look forward to her gifts being used greatly in the next season as well.
---
Church Planter of the Week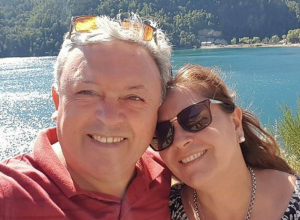 David Ibarra, Field Coordinator for Hispanics for Christ in Rafaela, Argentina. David has spent roughly twenty years planting churches across central and northern Argentina. Pray for David's ministry with Hispanics for Christ, training pastors and planting new churches, even as he continues to serve as pastor of Iglesia Jesucristo Mi Esperanza. Ask God to give David great strength and wisdom as he helps the church reach those in Argentina for Jesus Christ. Pray as well for Iglesia Jesucristo Mi Esperanza as they seek to engage their community. For more information, visit the Hispanics for Christ website at www.hispanicsforchrist.org.
---