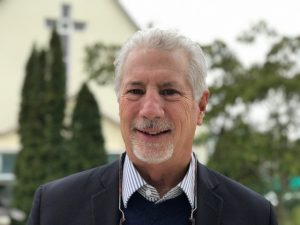 Dear NAB Family, As all of you know, Dan Hamil ended his tenure as the executive director of the NAB on March 20. Allow me to restate here how grateful we all are for Dan's six years of service to the NAB as our executive director. He truly served us with great skill and a good heart. He will be missed by all of us. Even before his final day in the office, the Governing Board began the process of selecting a new executive director. We are acting on this with progressive steps that will hopefully result in bringing to the Conference an individual for this position by the time of our 2021 Triennial in St. Paul, Minnesota.
The first step in the process was to form a transition team from the Governing Board to map out the various steps we should take. We have a committee of four board members: myself, Dana Goodnough, Harry Kelm, and Ken Solberg. We have been meeting almost every week to fine-tune the process and to deal with details that come up along the way. At the same time, the board also selected the NAB's CFO, Richard Brown, to serve as the acting Executive Director until we could appoint an interim. Richard actually served in this way last summer during Dan's sabbatical and did a great job during those months.
The second step is to select an interim executive director. Since we found out about Dan's resignation, we began this process. We have asked the Executive Team and the regional ministers for suggestions about what we need from this position and about the qualities we should look for in a person to fill it. We are hoping to have this process complete and an interim executive director named shortly after our next Governing Board meeting, which is April 23. This process has been somewhat hampered by the fact that because of the COVID-19 pandemic we will not be able to meet in the same room face to face.
The third step is to appoint a search committee to begin doing the detailed work of collecting information and CVs from candidates for the permanent position of executive director. The board will again invite ideas and comments from the Executive Team and the regional ministers regarding people who could effectively serve on this committee, as well as thoughts concerning what qualities we should be looking for in our next executive director. We hope to have this committee appointed and beginning its work by early May.
We ask for your prayers for us and for the search committee as this work begins. We also invite any questions you have and will address them as quickly as possible. Our prayers are with and for all of our Conference churches and for the Church as a whole during this period of crisis. We pray for health, and we pray that we would all see what opportunities exist for us because of this pandemic. God is always at work, and we can be sure He will open doors for us and for the gospel.
Blessings to you all,
Mike McNeff NAB Moderator