Missional Voice: Volume 4
A resource to help you to better follow in the footsteps of our missional God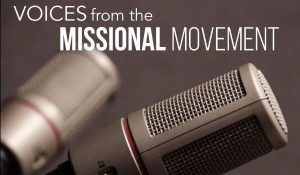 The Missional Voice is a collection of articles from various theologians and practitioners, aimed at making us stay true to a biblical hermeneutic and yet foster an imagination for how God may be leading His people to join Him on mission in North America.
Below you'll find a link to Volume 4 of The Missional Voice: Loving God with All Our Minds. All four volumes can be found at the link below.
We invite you to read, apply, and respond concerning the content of these articles. We have been successful in the writing of these articles if by some change the Spirit of God uses them to cultivate a heart for joining Him on mission and spur an action that comes from the people of your church. We welcome all questions and comments about these articles.
New Intercessor Prayer Calendar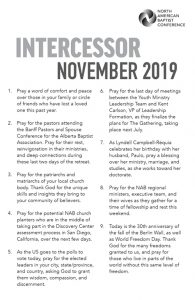 Join our faithful prayer warriors in praying for the NAB family with the most recent edition of the Intercessor. To view or download, click the link below. If we can be praying for you or your church, or you would like to receive future Intercessor prayer calendars, please let us know at communications@nabconf.org.
Thank you for your continued partnership in prayer and helping us to use our resources wisely
in this way.
Missionary of the Week

Kristi TenClay, NAB Missionary, Cameroon. Kristi has been serving in Cameroon since 2010, where she has been teaching missionary children and international students at Rain Forest International School in Yaoundé. This school year is much different since she took on the role of interim director of the school. Though the previous director did a great job over the previous school year of helping Kristi prepare, the steep learning curve is requiring her to simply jump in and trust in God. Pray for Kristi in her new role, that she would rest in God's strength. Pray as well that the students and staff would develop healthy balance and priorities through whatever comes their way. For more information, and to read her most recent newsletter, visit nabonmission.org/missionaries/kristi-tenclay.