Wrapping Up our Focus on Student Ministries
Helping Students Follow Jesus Further
Bryce Roskens
Youth Pastor, Steamboat Rock Baptist Church
Steamboat Rock, Iowa
I have had the privilege of working with students from our church and surrounding communities for over fourteen years now. I believe that longevity in youth ministry is a real thing with real value, but it's not accomplished in an isolation chamber. Many resources and relationships have helped and continue to help us reach the next generation in and around Steamboat Rock, Iowa.
People First
Team Effort
Constantly Learning
Getting Help in Many Places—favorite books and websites
Click below to read about Bryce's suggested resources in more detail.
More on Encouragement for Youth Leaders
Student Perspective—Interview with Jillian Simon
Bryce Roskens recently sat down with Jillian Simon, a high school senior interning with him this semester. They discuss life as a high school student, what has been helpful for her in the church, and her perspective on faith and youth ministry.
Click below to read the full interview with Jillian.
New Intercessor Prayer Calendar
Join our faithful prayer warriors in praying for the NAB family with the most recent edition of the Intercessor. To view or download, click the link below. If we can be praying for you or your church, or you would like to receive future Intercessor prayer calendars, please let us know at communications@nabconf.org.
Thank you for your continued partnership in prayer and helping us to use our resources wisely in this way.
Church Planter of the Week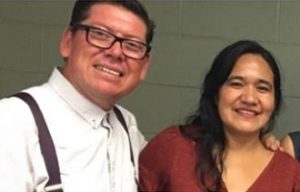 Rommel Ticas, Casa de Luz – Stockton, Stockton, California. Rommel and his family have been serving in the Stockton area for more than fifteen years. Last June, Casa de Luz ­– Stockton launched, in partnership with Casa de Luz in Sacramento, California, and Quail Lakes Baptist Church in Stockton. Pastor Rommel's dream is that everyone in the church know and focus on Jesus. He currently works another job during the workweek, which leaves him with not as much time as he would like for ministry. Pray for his schedule, as well as for the continued spiritual growth of those who call Casa de Luz – Stockton home. Contact Pastor Rommel at rommelticas@gmail.com to find out more about the church, and you can also visit www.casadeluz.net/stockton or www.facebook.com/casadeluzstockton.