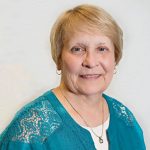 ~Jean Ewing, Women's Connection Leadership Team
We are made to live connected, to God and to each other.
The NAB Women's Connection Leadership Team is in the process of refreshing our focus, our look, and the ways we can connect with women in ministry in our NAB churches. We want to hear from the women in our churches as these plans take shape, so we are purposefully sitting down with women to hear their hearts and discover ways that we can come alongside them in their leadership roles.
Members of the Women's Connection Leadership Team have been blessed to be in four of the twelve NAB regions: NorCal, British Columbia Baptist, Eastern, and Alberta Baptist Associations, with two events in Alberta, one in Calgary and another in Edmonton. Women in leadership in these association churches were invited to either a luncheon or a dessert celebration, and over 120 women from these regions have joined us.
As we sat around tables, we shared with one another what God is doing in our lives and churches. One of the highlights of our time together is Table Talk. While enjoying delicious food, we shared thoughts about focused topics concerning women in ministry. We spent beautiful moments listening and encouraging one another as women talked about their personal struggles in life and ministry.
Our team was also able to share about the overall vision of the NAB and the vital role women play in it. It was a blessing to see the hearts of women warm up as we talked about participating in the mission of God. Ideas flowed as we asked for specific ways we could encourage and equip them in their roles.
Before leaving, we prayed for each other.
This is what the luncheon in British Columbia meant to Sue Cheung from Cornerstone Evangelical Baptist Church in Vancouver:
What a fantastic event! It was such a wonderful event to attend and be inspired by the work of other women in local ministries. So often we operate in our church 'silos' and are completely unaware of God's work happening in other NAB churches. I really enjoyed meeting with other ladies and hearing what they are doing. It was very interesting to note that many of the challenges we are facing in our own ministries are happening in other churches as well. I believe that if we came together more often it would be a real blessing to uplift and encourage each other. What joy there would be to create synergy and multiply God's work in a meaningful way. You can definitely sign me up for the next luncheon!
The Women's Connection Leadership Team is grateful to those who helped prepare the events: Heather Senges and Dawn Krahn in British Columbia, Monica Goodnough and her team in the Eastern Association, Fabiola Campos and the ladies of Casa de Luz in NorCal, and Jana Cleverley in Calgary and Christine Otten in Edmonton, both from the Alberta Association.
Our times together reminded us of the important role we as women play in the work of the Kingdom and of the need to diligently encourage and equip the leaders of today and those who follow in the future.
For more info, contact Jean at jhewing@roadrunner.com