Philippines Relief Effort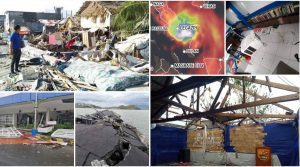 Early in December, a Category 4 typhoon made landfall in the Philippines. Mayette Ativo-Bueno, an NAB national missionary who runs the Bicol Center for Christian Leadership (BCCL) in Legazpi City, said, "Only by the grace of God did we survive with minimal damage." The nearby towns sustained much worse damage; only the actual BCCL building and classrooms were in need of minor repair. In addition, the graduation ceremony was postponed due to the typhoon. After a few days with no electricity, Mayette and Pastor Tony, her husband, were able to connect with BCCL students nearby and in neighboring provinces. Mayette shared,
Although we are used to typhoons, the extent of the damage of this one was too large as it covered not only Bicol Region but also Northern Samar Province (where we also have an extension class) among other areas as well. It is sad to see more and more reports of its effect on other provinces.
Prayers have been rising from all around the NAB family on behalf of the tens of thousands who have suffered great loss. It is now time for us as a family to give our financial support. Your gift today for the Philippines will go directly to ongoing relief efforts this month through Mayette and the team at BCCL. Your donation will help repair the minor damage at BCCL caused by the typhoon and provide replacement roofing to BCCL students and alumni who require assistance.
As we come alongside Mayette and the BCCL family, we know there is great need! Join us in sending relief to those impacted. Our goal is to raise $10,000 to allow Mayette to provide this much needed assistance.
As you give, continue to pray for the Philippines and our brothers and sisters at the BCCL:
Pray for their continued recovery from the typhoon.
Pray for safety while the Taal volcano remains active.
Pray for the ministry opportunities that arise from these crises.
Thank you for being a part of the NAB family as we seek to encourage and support those who are being impacted by these disasters.
Join the Philippines Relief Efforts
---
Discernment—Paying Attention to God at Work in our Neighbourhoods
Cam Roxburgh
NAB VP of Missional Intiatives
For years, I was helped by such things as the Global Leadership Summit out of Willow Creek. I bought the books (and even read most of them) and tried to put into practice some of the lessons I learned. Many of them produced results, but I knew there was something not quite right. These were not the only kind of results I was looking for.
As I continued to pastor and lead God's people, the missional conversation began to grow. It resonated in my soul for a number of reasons. First, it emphasized God's nature as being missional, not just His action. Second, it was all about the formation of our characters/souls in the way of Jesus; it took discipleship to a new level. Third, it had a strong discernment emphasis. Perhaps it was not stated this way, but it was there. We needed to discern where God was at work in the world in order to join Him.
Click below to read more on Discernment from Cam. 
---
Register for The Gathering by
February 1 and Save!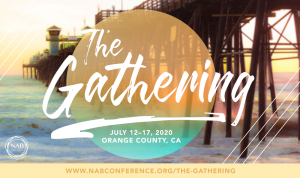 The Gathering is a youth conference and missions experience that provides students with a variety of thoughtful experiences to dive deeper in faith, community, and service as an opportunity to become ambassadors for Jesus in Orange County and inspire them to serve God and others when they return home. The Gathering is the only venue that assembles students from across the NAB in one place for a time of worship, service, transformation, and fun.
If your church has not signed up yet, click below for all the details and register! Save when you register by February 1! 
---
Print