Lebanon Crisis Relief

A little over a year ago, NAB Gateway and NAB International Missions began exploring a partnership in Lebanon with an organization called Horizons. We are excited about this opportunity that could provide global sister partnerships in Lebanon and also open the door for the NAB to ministry throughout the Middle East. On the first trip to Lebanon in 2019, Randy Schmor, the NAB Gateway director, and Joseph Thomas, an NAB pastor in Pennsylvania, met with leaders from Horizons; Randy returned in February of 2020 with Kerry Bender, the VP of International Missions, and Dana Goodnough, an NAB pastor in New York and board member for the NAB, to further explore this partnership.
As we continue to be in the midst of these partnership conversations, we were looking forward to informing the broader NAB family of this burgeoning potential relationship as fall and winter approached; however, crisis does not wait on our timeline, and neither do opportunities to minister alongside new friends. In the midst of the ongoing refuge crisis in Lebanon, COVID-19 provides new and greater opportunities for Horizons to be the hands and feet of Jesus. Then, last week there was a massive explosion in the capital city of Beirut. Horizons is partnering with churches throughout Beirut and the world to provide assistance in the midst of these desperate times, and we have the opportunity to come alongside them and demonstrate the Gospel lived out by the Church. Please prayerfully consider contributing to the work of Horizons through a relief fund that the NAB has set up for this purpose.
You can click on the link below to contribute through Canadian or US dollars. If you have any questions about this ongoing work or the ongoing conversations regarding partnership with Horizons, please do not hesitate to reach out to Kerry Bender or Randy Schmor.
---
New Central Plains Regional Minister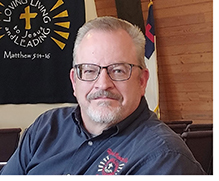 We are thrilled to announce that Brad Seifert has been voted in as the new regional minister for the Central Plains Region, taking over the role for Dan Heringer, who is currently serving in the capacity of interim Executive Director for the NAB before he plans to retire next July. A well-known pastor in the Central Plains Region, Brad is a welcome addition to the role of regional minister.
Brad spent his early life helping his father and grandfather on their farm in central Kansas and learned much during these formative years. He attended Bethany College in Lindsborg, Kansas, where he earned a degree in business and economics and met his wife, Tami. They were married after Tami's graduation in June of 1984, with Brad's graduation following a year later.They moved to Sioux Falls, South Dakota, in 1989 after Brad felt God calling him into the ministry. He enrolled at North American Baptist Seminary, graduating in 1992. Brad and Tami then moved to Stafford, Kansas, where they began their ministry at Calvary Baptist Church. Brad was ordained in 1994 at Calvary Baptist with the Southwest Association, the same year their son, Zach, was born.In 1998, the Seifert family moved to Junction City, Kansas, where Brad has served as the lead pastor of Highland Baptist Church ever since. Brad and Tami have enjoyed being part of the Junction City community. Brad's been active in coaching youth sports, including coaching the junior football program since 2001. He also enjoys serving as a chaplain for the local police department, is active in the local ministerial association, and has various other community involvements. Tami teaches in the local school district and coaches volleyball.
In addition to ministry at Highland and in his community, over the last twenty-eight years Brad has served in various roles in the Southwestern Association of the NAB. He has also served for several years on the Regional Leadership Team of the Central Plains Region and was previously appointed as a representative of the Southwestern Association to the General Council of the NAB.
We are confident Brad will eminently serve the pastors and churches within the Central Plains Region for years to come.
---
A Safe Space to Ask Tough Questions about Race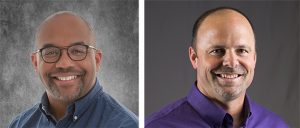 If you have questions about race and the church but have never had a safe space to ask them, join us on August 27 at noon Eastern time for a special webinar led by Wayne Stapleton, the NAB VP of Cross-Cultural Engagement, and Chris Gorman, the regional minister for the Northwest Region.
In order to make best use of this time together, we are asking that you submit your questions ahead of time for Wayne and Chris to process. Please submit them to communications@nabconf.org by August 21 with the subject "Questions about Race."
You can register for the webinar at the link below. We look forward to our time together discussing this complex topic.