Engaging Church Planters in International Missions
By Stu Streeter
VP of Ministry Advancement and Church Planting
I see it all the time when talking with new church planters and I ask them about their strategic plan for the development of their church's ministry. They typically have a fairly clear idea of the budget; they know how and when missional engagement will begin, what systems will be used for business administration, and even the flavor of the weekend gatherings. But rarely do I hear a vision or plan for how they plan to engage their new church in the work of global missions.
This is where the NAB family is such an immense and blessed resource to her new church planters.
Read the entire article from Stu Streeter
Upcoming Easter Devotionals
Like much of what Jesus said during His years among us, the words He said while He was dying on the cross are important. Truthful. Resonant. Iconic. Yet, there is a special poignancy to the seven times Jesus spoke as He was dying on the cross. These words ring with deep truths that speak to far more than their immediate context. Join us in setting aside a few minutes each day in the seven weeks leading up to Easter as we take a look at each of these moments with the desire to understand their deeper implications and we seek to implement these truths into our lives.
"Father, forgive them, for they don't know what they are doing." – Luke 23:34
"I assure you, today you will be with me in paradise." – Luke 23:43
"Dear woman, here is your son." "Here is your mother." – John 19:26–27
"My God, my God, why have you abandoned me?" – Mark 15:34
"I am thirsty." – John 19:28
"It is finished." – John 19:30
"Father, I entrust my spirit into your hands!" – Luke 23:46
Sign up below to receive the daily devotionals beginning on March 6 and running through Easter Sunday.
Missionary of the Week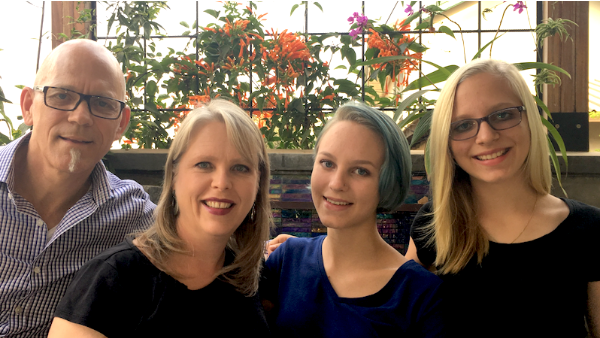 Calvin and Susanne Hohn, NAB Missionaries in Cameroon. The Hohns serve in the role of leading and coordinating for both NAB missionary ministries and the Cooperating Missions for the Cameroon Baptist Convention. While they live and work in Bamenda, both of their daughters, Ysabelle and Elianna, are seven hours away attending the Rain Forest International School. Both halves of the family are in areas of the country that are relatively safe, despite the ongoing unrest, but continue to pray for the violence and discord between the English- and French-speaking populations, asking God to use His people to lead the way of peace, forgiveness, and resolution. For more information and to read their latest update, visit nabonmission.org/missionaries/calvin-susanne-hohn.