Missional Voice
A resource to help you to better follow in the footsteps of our missional God.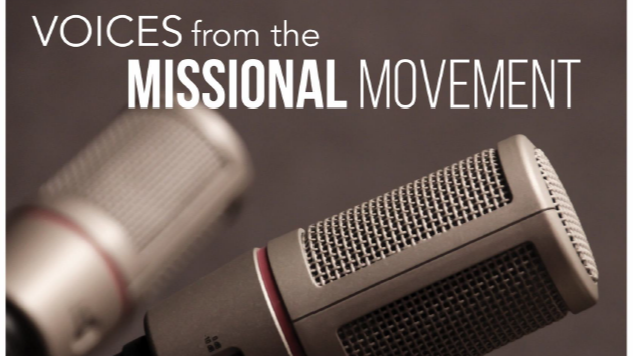 Lesslie Newbigin was a missionary from England to India. When he returned after almost forty years on the international mission field, he discovered that he was returning to a post-Christian England. His home country was in need of those who would interpret the gospel in that context as much as other countries had need of a missionary movement. It was into this context that he began to teach and write The Gospel in a Pluralistic Society.
By the 1990s, a group of theologians and practitioners here in North America had been impacted by Newbigin and became convinced that North America was in the same situation. The Gospel and Our Culture Network (GOCN) began to write about our North American context in much the same way as Newbigin had written about the English scene. In those early days of the GOCN, the conversation was very intellectual, and many practitioners cried out for a more practical approach. Eventually this came and many began to put feet to the reflection of the GOCN on issues of gospel, culture, and church. Much of this work was good in those early days after the year 2000, but very quickly missional church began to become a fad and the rich theological reflection became watered down. Many even tried to incorrectly tie the missional church movement with the dying emerging church project.
The Missional Voice is one effort to keep the theologically rich content of the GOCN and Newbigin, and yet put feet (or at least language) to what it is that we think God is doing in North America. The Missional Voice is a collection of articles from various theologians and practitioners, aimed at making us stay true to a biblical hermeneutic and yet foster an imagination for how God may be leading His people to join Him on mission in North America.
We invite you to read, apply, and respond concerning the content of these articles. Volume 1: The Missional Church is available now by clicking the link below. We have been successful in the writing of these articles if by some change the Spirit of God uses them to cultivate a heart for joining Him on mission and spur an action that comes from the people of your church.
Click to read volume 1: The Missional Church
Update on Cameroon

Recently, Kerry Bender had a chance to sit down with René Kwalar, National Youth President of the Cameroon Baptist Convention, at the NAB Youth Workers' Summit. René shared about the ongoing struggle in Cameroon and the continuing needs there. But in the midst of this ongoing struggle, God is at work and the CBC and our NAB missionaries are continuing to be used by God to bring light in the midst of the darkness. Please continue to keep this situation in your prayers! You can keep up to date at our website and continue supporting the relief efforts at the link below.
Cameroon Crisis Relief Fund
Church Planter of the Week
Alcides Gonzales, Field Coordinator for Hispanics for Christ in San Lorenzo, Paraguay.Hispanics for Christ is a ministry focused on planting Hispanic churches. They provide vision casting, strategic planning, and coaching for church planters in the Americas. Alcides started out overseeing local Bible clubs in Paraguay. In 2010, he started an orphanage to serve a needy community. He is now focusing on planting new churches across Paraguay even as he serves as the pastor at Iglesia Cristiana Evangelica Florida in San Lorenzo, where he has pastored since 1995. Pray for the continued training in evangelism and for the Gospel to spread throughout Paraguay. Visit www.hispanicsforchrist.org for more information.
Missionary/Church Planter of the Week