July's Focus on Church Planting

All of July, the Explore NAB updates will focus on church planting. Whether it is a traditional church plant, a new campus, or an expanded ministry, we are excited for how God is moving in the NAB in this area. Watch this video to hear from Stu Streeter, NAB VP of Church Planting, as he teases some of the content to come your way this month.
New Intercessor Prayer Calendar
The new July/August Intercessor is available now by clicking below.
We are excited to announce some new changes to the Intercessor! It has a fresh new look as a smaller-sized booklet, is easier to access and print from home or church, and is now solely focused on the prayer calendars and church updates.
We are committed to sharing these conference-wide prayer requests and church updates with you. We will update it every other month and share with you when a new one is available.
Thank you for your continued partnership in prayer and helping us to use our resources wisely in this way.
Explore NAB Podcast: Episode 1

The new July/August In this inaugural episode, Stu Streeter, VP of Church Planting, sits down with three church planters—Chris Finchum, John Cassidy, and Jamie Hamblet—to talk about what it looks like planting a church in 2019. Listen as they discuss some of the struggles they've come up against and some key strategies they've developed for starting a church community from scratch. This is the first of a four-part series.
Listen to the Explore NAB Podcast
Church Planter of the Week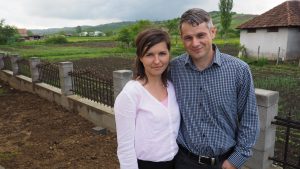 Tamas and Tunde Modi, National Missionaries, Romania. Tamas and Tunde work with Paul and Tanya Gericke and Vern and Gloria Wagner at Camp Falcon Rock. Tamas, with his background in construction, is the camp director, and Tunde, who comes from a legal background, serves as the administrator, so they are well suited for their respective responsibilities. They are native to Romania but are supported by NAB churches to enable them to serve as God has called them. A number of cabins and other buildings have already been built, but the main lodge of the camp begins construction this summer, with hopes of getting the walls and roof up before winter sets in. Pray for the continued fundraising and development of Camp Falcon Rock. Also, pray for the camp's ministry during the rest of the summer months, which are packed with children's camps and church rentals. For more information, visit nabonmission.org/missionaries/tamas-tunde-modi.
Missionary/Church Planter of the Week