NAB Youth in the Real World

In this video, Joe Broesamle, member of the Youth Ministry Leadership Team, shares the NAB's heart for youth and why we believe it is important to pour into the lives of students. This month we will focus on youth ministry and shine a spotlight on what we are doing to support youth leaders and students across the NAB.
Love at the Center

Many of us remember where we were when we first chose to follow Christ. For Molly, it was at a barbecue feeding 2,000 people in a neighborhood of Philadelphia, Pennsylvania, at the center of the city's drug trade. On this day, Molly, a woman who had been prostituting herself, was among 150 new believers. Her opportunity for new life in Jesus became possible because Mike and CeCe Burwell trusted that God would change the hearts and lives of the people in their community who are in need. After CeCe hugged her, Molly expressed gratitude that church people would be out there among people like her, touching them and loving them.
The lives of Mike and CeCe, surrendered to the work of the Gospel, are bearing fruit, and the seeds have been planted through your partnership in this missional/formational journey. Click below to find out more about the Koinos Center story and how you can participate in supporting those like the Burwells around the NAB.
More on Supporting these Efforts
Becoming a Church on Mission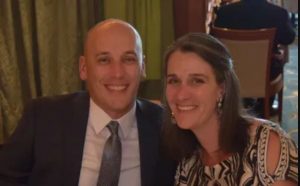 Darren & Crista Lof
Gather Steveston, Richmond, BC
www.gatherchurch.ca
We have lived in the Steveston area of Richmond, British Columbia, for close to twenty years. We had made many relationships with people in the community and understood the culture of Steveston. It is for these reasons and because of our desire to share God's love with our neighbours that we thought Steveston would be a great place to plant. We committed to spending the first year in prayer for God's continued direction and for our obedience to His calling. We decided to use the name Gather based on Jesus's promise from Matthew 18:20: "For where two or three gather in my name, there am I with them" (NIV).
Click below to read more from Darren.
Missionary of the Week
Dennis and Nancy Palmer, NAB Missionaries, Cameroon. Dennis and Nancy Palmer have been working at Mbingo Baptist Hospital in northern Cameroon for the past fifteen years, having previously served for nearly a decade at Banso Baptist Hospital and in other capacities. They currently work in hospital development, which includes a number of larger projects, including a long-term project to develop radiation therapy for cancer patients, a hydro-electric dam, and, more recently, a telepathology system. Pray for the Palmers as they move into a season of medical missions recruitment within the NAB. Pray as well for the safety of the doctors, staff, and patients at Mbingo, which is currently the only major hospital operating in the area due to the ongoing unrest. For more information about the Palmers, visit nabonmission.org/missionaries/dennis-nancy-palmer.