Latest Episode of the Explore NAB Podcast
Talking all things youth ministry with the Hensons

In this episode of the Explore NAB podcast, Kent Carlson dives deep into the topic of youth ministry with Greg and Heather Henson, both of whom come to the table with a wealth of knowledge, experience, and passion to minister to the next generation. Join in as they discuss how to involve youth ministry in the greater context of the church and as they work through the unique challenges that a multi-generational ministry can present.
Click below to listen to Kent's conversation with Greg and Heather and learn more.
Ending the Fiscal Year
The imagery associated with baptism is beautiful and poignant—being submerged underwater as an act of putting to death the old life and being raised out of the water as a symbol of taking on a new life in Christ. It is a distinctive ordinance that is part of what defines our beliefs and practices as Baptists, and redemptive stories are heard at baptisms all across the NAB family on a regular basis. These stories and changed lives are a direct result of the work of NAB pastors, leaders, and congregations. Missional and formational training provided by regions and International Office staff make a significant difference in preparing churches to faithfully walk with people on their road to new life found in Christ Jesus.
Click below to read one such story and find out how your support at the end of NAB's fiscal year will greatly assist us in continuing efforts to equip regions, churches, pastors, and congregations for the work of advancing the Gospel all across North America.
Read Katie's Story and Find Out More
Church Planter of the Week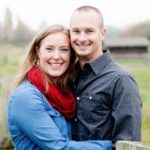 Brian MacSwan, Legacy Church, Bellingham, Washington. Pastor Brian and the people at Legacy Church have a desire to reach the people of their city and see Bellingham renewed by Jesus and His Gospel. They desire to be a church plant that plants churches. Pray for them as they seek to partner with God in what He is doing in Bellingham. Pray as well for their missional communities, which meet at five different times and locations during the week with the purpose of growing together in community and creatively and tangibly declaring the gospel as missionaries in their neighborhoods. You can learn more about them at the church website: legacybellingham.com.